UK small businesses still in the dark ages
Jinfo Blog
Sunday, 13th November 2011
By Dale Moore
Item
Small and medium-sized enterprises (SMEs) are in danger of getting stuck in the technological "dark ages" according to a recent report. The Intel Small Business Index reports that small businesses are "slow to adopt new technologies such as tablets and cloud computing because of a lack of financial and human resources" adding that these businesses "are also putting themselves at risk of data breaches because of a lack of awareness around security regulations and investment in security technologies".
The study, conducted by Lightspeed Research, surveyed around 3,000 IT decision makers and users in companies employing less than 250 employees. Unfortunately, no further breakdown of business size is mentioned, which is a shame as there's a big difference between businesses employing 200 people and those employing 20.
Not that I'm blaming Intel or Lightspeed as I'm sure they were simply following the European Commission Enterprise and Industry SME Definition which promotes three broad classifications of smaller businesses (micro, small and medium-sized). According to this definition, an SME is a business employing between 11 and 250 people (with a turnover of between €10 and €50 million).
According to the latest report (dated 2009) there are currently 23 million enterprises in the Eurozone falling within the scope of this definition. The Federation of Small Businesses reports that there are currently (November 2011) around 4.5 million businesses in the UK, accounting for 99% of all enterprise in the UK. No wonder there are so few information management jobs outside London!
The implications behind the findings are all a little worrying considering the respondents are IT professionals. Where are the information professionals in all of this? One very interesting observation is the daily use of fax machines (remember those?) by around 40% of IT decision makers and IT users. They either haven't realised that document scanning and emailing is a real alternative or they're determined to use that tried and tested fax machine they splashed out on.
The simple fact is that most SMEs won't spend money on technology or technological solutions (particularly during tough economic times) if there are no clear reasons why they should. There is often a complete lack of awareness in most SMEs of the clear business benefits of using technology, or simply using what they already have in better, smarter ways.
IT professionals are often not the best people to explain how investing in new systems can improve business efficiency or increase the bottom line. This role is best left to us information professionals who perfectly understand the synergies of technology, systems and people; even during tough times.
Well we do, don't we?
About this article
Blog post title: UK small businesses still in the dark ages
What's new at Jinfo?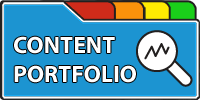 Latest in this Focus: Scorecards. Use Jinfo's step-by-step methodology to craft scorecards to strengthen negotiations, communicate with stakeholders, compare value of products and manage your portfolio more strategically.
---
What's your priority?
Use our self-assessment worksheet to determine your pathway towards more strategic portfolio management: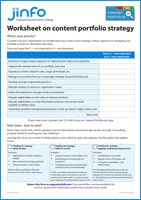 ---
A Jinfo Subscription gets you access to activity-based content to move your projects forward, plus dynamic peer group discussions on meaty topics.
Benefit from our research
Our proven processes, resources and guidance will help your team make the shift from transaction centre to strategic asset.
---
Designed around the most common challenges and pain points for time- and resource-strapped information teams
Optimise your operations
Holistic content portfolio management
Future-proof your information service
Executive-ready communications
---
A tailored overview of our research and active discussion with your Jinfo analyst.
---
Measure your starting point to articulate your strengths and set priorities for future improvements. Assessments gauge risk, capacity, value and more.
---
Read case studies, and start the conversation:
Connect your team with the practical tools, original research and expertise to build and support information strategy in your organisation.
A Jinfo Subscription gives access to all Content (articles, reports, webinars) and Community.