FT.com shows apps are key to paywall success
Jinfo Blog
Sunday, 27th November 2011
Item
The Financial Times, one of the pioneers of online paywalls announced this week that its digital subscribers had surpassed 250,000, constituting a 30% increase over the same time period last year. Bearing in mind that the newspaper's total circulation figure for print and digital is around 592,000, this is no mean achievement.
The paper has an impressive 2,000 corporate digital licences, which are used by 100,000 subscribers. Apart from the attraction of the metered paywall model, as opposed to the UK Times' "Berlin Wall" approach to online access, the FT's content has no doubt played a major factor in increasing online reader numbers. With the financial markets seemingly in freefall, up-to-date news has never been more important to the FT's constituency.
One of the main drivers boosting digital subscription levels is the FT's web app – another first amongst newspaper publishers, as reported by Nancy Davis Kho here - which recently registered 1 million users (see the paper's press release here). The app has been a major factor in increasing traffic to Ft.com via mobiles and tablets, since according to the newspaper, those registering on these devices are two and a half times more likely to subscribe.
According to journalism.co.uk, mobile devices now account for one fifth of all traffic to the FT, contributing to a six per cent growth in revenue for the whole FT Group.
Clearly, apps are the way forward for online newspapers. In fact, the press release refers to the "breakfast browsers", who account for the peak in morning usage of the paper's mobile products.
Launched in defiance of Apple's app store, which retains 30% of subscription revenues earned from iPhones and iPads, the FT's own app is building on its success by including more features. FT Special Reports and the A-list blog are now also available to app subscribers.
Ft.com's mobile products, by the way, were the subject of a mini review by Jane Heath last year. Follow the links to read Parts 1 and 2.
About this article
Blog post title: FT.com shows apps are key to paywall success
What's new at Jinfo?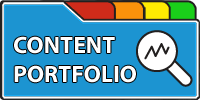 Latest in this Focus: Scorecards. Use Jinfo's step-by-step methodology to craft scorecards to strengthen negotiations, communicate with stakeholders, compare value of products and manage your portfolio more strategically.
---
What's your priority?
Use our self-assessment worksheet to determine your pathway towards more strategic portfolio management: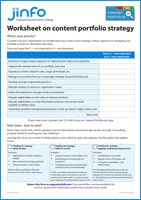 ---
A Jinfo Subscription gets you access to activity-based content to move your projects forward, plus dynamic peer group discussions on meaty topics.
Benefit from our research
Our proven processes, resources and guidance will help your team make the shift from transaction centre to strategic asset.
---
Designed around the most common challenges and pain points for time- and resource-strapped information teams
Optimise your operations
Holistic content portfolio management
Future-proof your information service
Executive-ready communications
---
A tailored overview of our research and active discussion with your Jinfo analyst.
---
Measure your starting point to articulate your strengths and set priorities for future improvements. Assessments gauge risk, capacity, value and more.
---
Read case studies, and start the conversation:
Connect your team with the practical tools, original research and expertise to build and support information strategy in your organisation.
A Jinfo Subscription gives access to all Content (articles, reports, webinars) and Community.