FreePint and BST America Tackle the Key Issues for Information Professionals
Jinfo Blog
Thursday, 28th March 2013
Abstract
In collaboration with BST America, FreePint is launching a new series of webinars and articles focusing on the key issues and challenges for information professionals and suppliers to the industry. The topics tackled in the articles will range from identifying ROI on content to negotiation with vendors; the webinar series will focus on identifying and measuring value.
Item
What are the Key Issues for the IM World?
FreePint has worked with me, Bill Noorlander of information and market data consulting and outsourcing firm BST America, on a number of joint efforts over the past few years and the two are now collaborating once again on an exciting project examining today's key issues for information professionals. This will result in four articles and four webinars which will be presented over the next two to 10 months.
The first task was to agree on a list of topics and discussions that are current and relevant to those in the information management profession. We wanted to identify the issues that are important to information professionals – those which are pertinent and relate to the daily challenges faced by information users and suppliers.
To achieve this, I carried out research with a range of information users and suppliers. The level of response was very high; over half of those contacted answered the email request. The range of comments was very broad and included more topics that we thought would be the case - there is obviously a wide spread of current topics and concerns.
Lots on Your Mind
I received around 60 suggested topics from the users and around 20 from the suppliers. Quite an amazing response. The next challenge was to whittle these down to four topics for the article series and four for the webinars. After much review and discussion we decided that the following would be of greatest interest:
Articles
Content ROI – What are the processes and tools to measure value and compute ROI?
Trends in Content Buying – What has an impact on the content users choose to buy, and why?
What are the Suppliers Thinking? – They have a right to their point of view
Vendor Management & Negotiation Practices – Objectives, practicalities, realities and how to get it right
Webinar Series – Identifying and Measuring Value
The objective is to deliver maximum insight and value to readers and participants at our webinars.

What Do You Already Know about Value? – Creating a framework for value identification and measurement
Value and Stakeholder Engagement – Getting all stakeholders to a point of mutual concession
Pilot Project: Planning, Executing, Reflecting – Testing your approach to value measurement
Aligning Suppliers According to Value – How to balance and equate supplier value with client requirements?
We anticipate that the dialogue between us will be very interactive. Our intention is to request input from all of you as the work progresses and we're excited to hear what comments and suggestions may come my way. Our mutual collaboration is what will drive the most value into these topics.
We look forward to working on this series over the coming months.
The initial list of topics is below:
User Topics
How to measure content value and ROI?
How to best determine what your content needs and requirements are – must have/good to have/nice to have
Usage metrics. Will we ever get them right? Can we learn to live without them?
State of the content industry. Where are the alliances & partnerships?
Free vs. fee-based content
Future requirements and mobility. What is realistic?
Trends in content buying. More or less, and why?
Best practices for vendor management and price negotiations
Offshore usage and outsourcing
Globalisation of usage rights and contract terms
How to navigate between content usage and procurement.
Supplier Topics
How have the "relentless" budget cuts for content the last few years impacted the quality and level of content available to users?
Will the relationships that buyers and sellers had five years ago ever come back? Should they come back?
Can suppliers and users agree on the value of the content and related contract terms?
How to move from a "high volume" product to a "solutions" product. What is the value of the right data rather than a lot of data?
Best practices in contract negotiations.
About this article
Blog post title: FreePint and BST America Tackle the Key Issues for Information Professionals

Related articles:

Related Blog items:
What's new at Jinfo?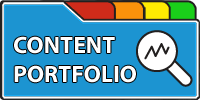 Latest in this Focus: Scorecards. Use Jinfo's step-by-step methodology to craft scorecards to strengthen negotiations, communicate with stakeholders, compare value of products and manage your portfolio more strategically.
---
What's your priority?
Use our self-assessment worksheet to determine your pathway towards more strategic portfolio management: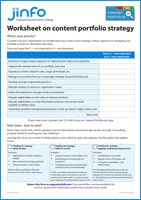 ---
A Jinfo Subscription gets you access to activity-based content to move your projects forward, plus dynamic peer group discussions on meaty topics.
Benefit from our research
Our proven processes, resources and guidance will help your team make the shift from transaction centre to strategic asset.
---
Designed around the most common challenges and pain points for time- and resource-strapped information teams
Optimise your operations
Holistic content portfolio management
Future-proof your information service
Executive-ready communications
---
A tailored overview of our research and active discussion with your Jinfo analyst.
---
Measure your starting point to articulate your strengths and set priorities for future improvements. Assessments gauge risk, capacity, value and more.
---
Read case studies, and start the conversation:
Connect your team with the practical tools, original research and expertise to build and support information strategy in your organisation.
A Jinfo Subscription gives access to all Content (articles, reports, webinars) and Community.