Staying Alert to FreePint Content
Jinfo Blog
16th April 2013
Abstract
FreePint has added two new features to its site to make sure you never miss articles or reports: one which gives users an even easier way to search the site; and the second which allows users to set up alerts so that when new content is published which matches your keywords, you're automatically notified.
Item
FreePint's site search has been enhanced to help you identify relevant FreePint articles and reports, and receive ongoing notifications of relevant content.
You can now choose between "Relevance" and "Date" as the sort order for search results, and your browser's BACK button will now work when performing different searches.
FreePint readers have asked for a way to be notified by email of new content matching certain keywords, and so we have added a direct link to Google Alerts.
Now, when you conduct a search on FreePint, you will see a box on the right of the search results:
... with a direct link to Google Alerts. Click on the link, and you will see an alert definition box like this:
... and we recommend following these tips:
Add your search terms after "site:freepint.com", which limits the search to the FreePint website
Ignore the preview box on the right, as it nearly always reports "no recent results" even when there clearly are recent results matching the search term.
When you click "Create Alert", you'll see a list of all your Google Alerts:
... and you'll start to receive your alerts by email.
This is a great way to make sure you never miss a relevant FreePint article or report again.
Why not try a search now, and then set up an Alert to try it out?
About this article
Blog post title: Staying Alert to FreePint Content

Related Blog items:
What's new at Jinfo?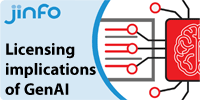 Community session: Legal implications of licensing third party content for GenAI
24th October 2023
Community dates
---
"Talent management, legal news cut, generative AI developments and new products"
5th September 2023
Learn about the vital role of nurturing the talent pipeline and succession. There's now a legal cut of our news and current awareness survey. And a real need for information managers to assert themselves to maximise the value of generative AI and mitigate the risks.
Read on the Blog