A Different Kind of Conference, a Different Kind of Community
Jinfo Blog
Friday, 13th March 2015
Abstract
Ann-Christin Karlen, a law librarian from Gothenburg, Sweden, shares her experiences of the Cycling for Libraries event and explains why you should consider participating in this year's tour from Oslo to Aarhus in September.
Item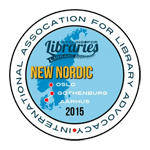 I was working as a volunteer at IFLA in Gothenburg 2010 when I one day came across an old cataloguing card that had been turned into a flyer for an event called Cycling for Libraries (Cyc4lib). The rather crazy idea was to gather 100 librarians from all over the world and ride together from Copenhagen to Berlin on bicycles. The tour would also include library visits along the way as well as plenty of opportunities to discuss library-related issues.
At the time I had just had knee surgery and riding a stationary bike was an important part of my physiotherapy. I decided right there and then that this crazy tour would be the perfect goal to train for! Since that initial tour I have taken part in three more and this year I'm one of the organisers of the New Nordic tour.
Networking and New Perspectives
Both the professional development and networking experience is completely different from regular conferences in so many ways. Since the tour is 10 days long you really have the opportunity to network with almost everybody. I have made some great friends over the years.
You also have the opportunity to take a deeper look at library issues. You might initiate a discussion with one colleague, mull it over for a day or two and then maybe change your viewpoint completely. Also there are very few PowerPoint presentations!
Sharing New Ideas
For me as a corporate librarian Cyc4lib has been an invaluable opportunity to get an insight into and network with fellow colleagues from other library settings. I have never worked in public library or in an academic setting and for a long time I didn't really feel that I had anything in common with those librarians. Through Cycling for Libraries I have come to realise that we have a lot of things in common even if we approach those issues in different ways.
This year I'm very much looking forward to welcoming everybody to my part of Sweden. Of course I want to make use of my experience and make this the best tour ever. I hope to see you on your bike in Oslo in August!
FreePint is sponsoring the tour this year, find out more in "Proud to Partner with Cycling for Libraries 2015".
About this article
Blog post title: A Different Kind of Conference, a Different Kind of Community

Related articles:

Related Blog items:
What's new at Jinfo?
Jinfo Overview - October 2021
View on YouTube
---
"I never before fully appreciated the role the information service plays in R&D productivity and innovation. This isn't something that benefits our department; this is something that benefits the whole of R&D."
You can make the impact of information on successful R&D visible and measurable, with Value Chain analysis.
---
Let us help you map Jinfo's Focus areas to your particular challenges with information strategy and operations.
Benefit from our research
Our proven processes, resources and guidance will help your team make the shift from transaction centre to strategic asset.
---
Designed around the most common challenges and pain points for time- and resource-strapped information teams
Optimise your operations
Holistic content portfolio management
Future-proof your information service
Executive-ready communications
---
A tailored overview of our research and active discussion with your Jinfo analyst.
---
Measure your starting point to articulate your strengths and set priorities for future improvements. Assessments gauge risk, capacity, value and more.
---
Read case studies, and start the conversation:
Connect your team with the practical tools, original research and expertise to build and support information strategy in your organisation.
Jinfo Content and Community gives access to all Content (articles, reports, webinars) and Community.