Complete our survey on developing an information-savvy workforce
Jinfo Blog
Tuesday, 17th January 2017
Abstract
Complete our survey on how to develop an information-savvy workforce through strategic alignments. As a thank you for participating, we'll email you a copy of the survey results on publication in March.
Item
Imagine the number of information interactions that take place each day in your information services department. Now compare it to the number you imagine takes place on the desktops and mobile devices of other employees in your organisation.
The volume of information interactions has shifted inexorably from information centres to end users. Yet how often are the information skills of those end users evaluated or improved? How much do end users really know? Why do they do what they do, and how can their interactions with information become more skilful and effective?
Critical questions
These are critical questions for today's organisations. And if information professionals are to focus on more complex, higher value work, we need to find ways to answer them and create a more information-savvy workforce.
The hypothesis of the current Research Focus, "Creating an information-savvy workforce through strategic alignments", is that this task is not one for information teams to tackle on their own. Rather, strategic partnerships with key areas of the business - such as learning & development or specific business units like R&D - are essential for success.
Complete our survey
Please take 10 minutes to complete the Jinfo Survey for this Research Focus, and share your perceptions of opportunities to leverage such partnerships.
Your responses are anonymous, but if you provide an email address at the end, you'll get a copy of the results when published in March.
About this article
Blog post title: Complete our survey on developing an information-savvy workforce

Related Blog items:
What's new at Jinfo?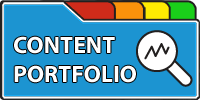 Latest in this Focus: Scorecards. Use Jinfo's step-by-step methodology to craft scorecards to strengthen negotiations, communicate with stakeholders, compare value of products and manage your portfolio more strategically.
---
What's your priority?
Use our self-assessment worksheet to determine your pathway towards more strategic portfolio management: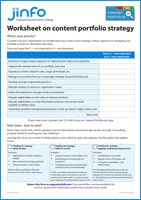 ---
A Jinfo Subscription gets you access to activity-based content to move your projects forward, plus dynamic peer group discussions on meaty topics.
Benefit from our research
Our proven processes, resources and guidance will help your team make the shift from transaction centre to strategic asset.
---
Designed around the most common challenges and pain points for time- and resource-strapped information teams
Optimise your operations
Holistic content portfolio management
Future-proof your information service
Executive-ready communications
---
A tailored overview of our research and active discussion with your Jinfo analyst.
---
Measure your starting point to articulate your strengths and set priorities for future improvements. Assessments gauge risk, capacity, value and more.
---
Read case studies, and start the conversation:
Connect your team with the practical tools, original research and expertise to build and support information strategy in your organisation.
A Jinfo Subscription gives access to all Content (articles, reports, webinars) and Community.