Create your Information Centre of Excellence with these three ingredients
Jinfo Blog
10th June 2019
Abstract
What are the ingredients you need to ensure your information centre performs at its best?
Item
Creating an Information Centre of Excellence requires creativity, deep expertise, and practical knowledge about the needs of your organisation - every instance will look different.
Three ingredients are essential to creating your unique version of the Information Centre of Excellence:
Knowing what questions to ask
Having a framework in which to ask them
Diligence about getting it done... despite the ever-increasing requests coming at you from all directions.
With Jinfo's research, you can envision and then create the right department, services and culture to succeed, through work on these questions:
What's the right balance of enabling end users and delivering expert information services, based on a core information strategy (see Insight 1 here)


Does your team have the right characteristics, such as consulting skills, commercial awareness, and tech-savvy? And if not, how can you cultivate them? (see Insight 2 here)


Are you working ON the business of your department and not IN the business? If not, you'll always be planning for the past (see Insight 3 here).
The vital third ingredient in progress - diligence
A Jinfo Subscription gets you access to resources that help you define the questions and work through a planning framework. But what about diligence?
Customers consistently tell us that the accountability and expert guidance of our analysts are amongst the most valuable aspects of Jinfo Consulting projects.
Design your own project or select from one of our tailorable workshops.
Contact me to discuss your needs.
About this article

Related articles:

Related Blog items:

Related reports:
What's new at Jinfo?
Let's talk about managing up
20th April 2023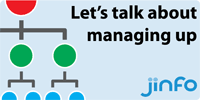 Community dates
---
[New] The Jinfo Subscription is back by popular demand!
---
"The goalposts keep moving..."
1st March 2023
Corporate belt-tightening continues and we are all being asked to do "more with less". But how practical is it to maintain service levels with diminishing resources? Before the straw breaks the proverbial camel's back, how do information leaders proactively manage stakeholders' expectations and resist the urge to "make do and mend" when budgets are tight?
Read on the Blog