Findings from the "Let's talk talent" Community session
Jinfo Article
18th January 2023
Abstract
Finding, attracting and retaining talent is critical to the success of any business. Given the current labour market and a dearth of people with the right skills, aptitude and attitudes, securing the right talent is a major challenge for many information leaders.
The January 2023 Community session was an opportunity to discuss these challenges with Simon Burton of CB Resourcing and explore ideas to address these issues.
Content Access
Access to Jinfo Content and Community is available through a Jinfo Subscription.
Does your organisation have a Jinfo Subscription?
"Not yet"
Access to this article is available through a Jinfo Subscription, which will help your organisation:
Save time and money
Re-invent information services
Define, measure and communicate information value.
---
"Don't know"
Contact us to find out if your organisation already has a Jinfo Subscription.

Or use the 'Text Chat' button at the bottom-right of this page for immediate assistance.
About this article
Article title: Findings from the "Let's talk talent" Community session
---
What's new at Jinfo?
Pivoting to meet the GenAI challenge
Community session
13th December 2023
---
Empower your stakeholders
Blog posting
5th December 2023
---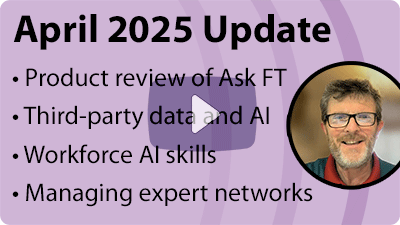 Jinfo December 2023 Update
YouTube video
7th December 2023