Let's talk offshoring – key takeaways from the March Community session
Jinfo Article
14th March 2023
Abstract
Offshoring and outsourcing were primarily seen as a mechanism to reduce costs by displacing onshore teams. Now they are seen as a complementary resource that can augment existing capabilities and create value. Setting up an operation requires careful planning, ongoing oversight and considerable investment. Whilst offshore costs are increasing, there are still worthwhile cost opportunities associated with pursuing an offshore strategy for your business.


Content Access
Access to Jinfo Content and Community is available to Jinfo clients.
Is your organisation a Jinfo client?
"Yes"
Please sign in here so that we can check your access to this item:
"Not yet"
Access to this article is available to Jinfo clients. Becoming a client will help your organisation:
Save time and money
Re-invent information services
Define, measure and communicate information value.
---
"Don't know"
Submit the Enquiry form to find out if your organisation is already a client or to discuss your questions or requirements.

Or use the 'Text Chat' button at the bottom-right of this page for immediate assistance.
Stephen Phillips
Lead Analyst
stephen.phillips@jinfo.com
About this article
Article title: Let's talk offshoring – key takeaways from the March Community session
---
What's new at Jinfo?
Let's talk about managing up
20th April 2023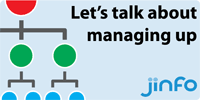 Community dates
---
[New] The Jinfo Subscription is back by popular demand!
---
"The goalposts keep moving..."
1st March 2023
Corporate belt-tightening continues and we are all being asked to do "more with less". But how practical is it to maintain service levels with diminishing resources? Before the straw breaks the proverbial camel's back, how do information leaders proactively manage stakeholders' expectations and resist the urge to "make do and mend" when budgets are tight?
Read on the Blog