Let's talk offshoring strategies
Jinfo Event
9th March 2023

Description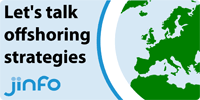 Information leaders need to demonstrate they are resourcing their teams cost-effectively to maintain and enhance services. Hiring freezes, budget constraints and the shrinking talent pool are forcing leaders to consider alternative ways to resource their teams.
The lowest-cost option is likely to be an offshore location; either using a "captive" site or an outsourced vendor. Whilst these options offer a significant cost advantage, they are not without risk. They need to be carefully scoped, deployed and managed to be a successful, cost-effective solution.
In this session we can discuss:
IS offshoring the right solution?
Managing expectations
What does success look like?
Sustaining the model.
Community sessions are for Jinfo clients only, and spaces are limited.
Please register as soon as possible using the form below.
Date
Thursday, 9th March 2023 at 08:00 Pacific / 10:00 Central / 11:00 Eastern / 16:00 (GMT) / 17:00 Europe, 60 minutes.
Community Registration
Access to Jinfo Content and Community is available to Jinfo clients.
Is your organisation a Jinfo client?
"Yes"
Please sign in here so that we can check your access to this Community session and provide easier registration (recommended)


Or complete the Registration Enquiry form below and we will check your access and register you for this Community session.
"Not yet"
Learn more about becoming a Jinfo client

"Don't know"
Please complete the Registration Enquiry form below and we will check if your organisation has access and contact you to confirm either way.
About this Event
Community event title: Let's talk offshoring strategies
What's new at Jinfo?
Building competitive advantage
9th February 2023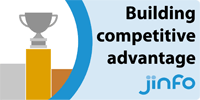 Community dates
---
[New] The Jinfo Subscription is back by popular demand!
---
"Happy anniversary Jinfo, née FreePint"
4th January 2023
25 years, 600 editions, 500 contributors. Jinfo has come a long way, and so has the value of information work. However, information leaders still need to win the war for talent, hold vendors to account, and keep an eye on competitors.
Read on the Blog