Let's talk offshoring – key takeaways from the March Community session
Jinfo Article
14th March 2023
Abstract
Offshoring and outsourcing were primarily seen as a mechanism to reduce costs by displacing onshore teams. Now they are seen as a complementary resource that can augment existing capabilities and create value. Setting up an operation requires careful planning, ongoing oversight and considerable investment. Whilst offshore costs are increasing, there are still worthwhile cost opportunities associated with pursuing an offshore strategy for your business.


Content Access
Access to Jinfo Content and Community is available through a Jinfo Subscription.
Does your organisation have a Jinfo Subscription?
"Not yet"
Access to this article is available through a Jinfo Subscription, which will help your organisation:
Save time and money
Re-invent information services
Define, measure and communicate information value.
---
"Don't know"
Contact us to find out if your organisation already has a Jinfo Subscription.

Or use the 'Text Chat' button at the bottom-right of this page for immediate assistance.
About this article
Article title: Let's talk offshoring – key takeaways from the March Community session
---
What's new at Jinfo?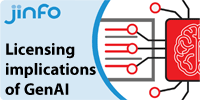 Community session: Legal implications of licensing third party content for GenAI
24th October 2023
Community dates
---
"Talent management, legal news cut, generative AI developments and new products"
5th September 2023
Learn about the vital role of nurturing the talent pipeline and succession. There's now a legal cut of our news and current awareness survey. And a real need for information managers to assert themselves to maximise the value of generative AI and mitigate the risks.
Read on the Blog