Making Sure the Right Experts are Involved in Decision-Making
Jinfo Article
9th February 2016
Abstract
Decision-making within the workplace is often a complex and drawn-out process. There can be multiple moving parts, conflicting stakeholder interests to consider, and interpersonal issues as well as technical and practical considerations. Identifying the right people to be involved in decision-making can also be a challenge. It can be difficult not to listen to those who shout the loudest, but to identify those have the expertise to assess the decision in hand. Sally Roberts discusses decision-making, how identifying experts and having the right documentation in place can help support this process, and how to create a constructive meeting room environment to aid decision-making. In particular, we look at decisions about the replacement of IT systems.
Content Access
Access to Jinfo Content and Community is available to Jinfo clients.
Is your organisation a Jinfo client?
"Yes"
Please sign in here so that we can check your access to this item:
"Not yet"
Access to this article is available to Jinfo clients. Becoming a client will help your organisation:
Save time and money
Re-invent information services
Define, measure and communicate information value.
---
"Don't know"
Submit the Enquiry form to find out if your organisation is already a client or to discuss your questions or requirements.

Or use the 'Text Chat' button at the bottom-right of this page for immediate assistance.

Robin Neidorf
Director of Research
robin.neidorf@jinfo.com
About this article

Related articles:

Related Blog items:

Related reports:
---
What's new at Jinfo?
Holding vendors to account
Thursday, 15th December 2022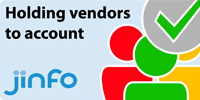 Community dates
---
[New] The Jinfo Subscription is back by popular demand!
13th October 2022
---
"Are you in a "proactive state of resilience"?"
15th November 2022
With the year end looming, our clients are closing out their 2022 deliverables and turning their attention to 2023 and the challenge of a more uncertain operating environment.
Read on the Blog