Pricing models for information and data licensing
Jinfo Event
2nd March 2021

[Focus: Content Portfolio]
Description
If you license external information and data into your organisation, you've likely encountered a wide range of pricing models, supplier requirements and unique use clauses.
This Jinfo Community session, part of our Focus on Content Portfolio, provided a forum for us to discuss:
Current expectations and norms
Most common exceptions… and how to work with them
Critical sticking points in pricing models and how to better understand what's behind them.
If you missed the session, download the anonymised notes today.
Slide presentation and notes
This event has passed, and a recording and/or slide deck is available for Jinfo clients.
If you are a client, please sign in here so that we can check your account:
About this Event
Community event title: Pricing models for information and data licensing

Related reports:
What's new at Jinfo?
Holding vendors to account
Thursday, 15th December 2022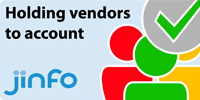 Community dates
---
[New] The Jinfo Subscription is back by popular demand!
13th October 2022
---
"Are you in a "proactive state of resilience"?"
15th November 2022
With the year end looming, our clients are closing out their 2022 deliverables and turning their attention to 2023 and the challenge of a more uncertain operating environment.
Read on the Blog