Scorecards - how information teams are designing and using them
Jinfo Event
25th May 2021

[Focus: Content Portfolio]
Description
The concept of using scorecards to support product evaluation, communications with stakeholders and licence negotiations is an exciting topic for many information professionals.
This Community session offers an opportunity to discuss the details of how scorecards are developed and used by others like you.
We'll use Jinfo's Scorecard methodology to frame a discussion on goals and priorities, components for scorecards and how to create manageable scoring systems.
To get the most out of this session, download and review these articles, which can be found in the "Scorecards" section of Jinfo's Focus on Content Portfolio:
Then join us for a peer group discussion of how to adapt these concepts to a wide range of organisations and needs.
This Jinfo Community session is open to any organisation with a Jinfo Subscription. When your registration is approved, you will receive details to join the teleconference.
Date:
Tuesday, 25th May 2021 at 08:00 Pacific / 10:00 Central / 11:00 Eastern / 16:00 (BST) / 17:00 Europe, 60 minutes.
Community Registration
Access to Jinfo articles and reports is a benefit of a Jinfo Subscription.
Does your organisation have a Jinfo Subscription?
"Yes, we subscribe"
Please sign in here so that we can check your access to this Webinar and provide easier registration (recommended)


Or complete the Registration Enquiry form below and we will check your Subscription and register you for this Webinar
"Not yet"
Purchase a Jinfo Subscription
Subscription Benefits


If you are considering purchasing a Subscription and would like to request taster access to try out the service, please complete the Registration Enquiry form below.
"Don't know"
Please complete the Registration Enquiry form below and we will check if your organisation has a Jinfo Subscription and contact you to confirm either way
About this Event
Community event title: Scorecards - how information teams are designing and using them
What's new at Jinfo?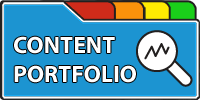 Latest in this Focus: Scorecards. Use Jinfo's step-by-step methodology to craft scorecards to strengthen negotiations, communicate with stakeholders, compare value of products and manage your portfolio more strategically.
---
What's your priority?
Use our self-assessment worksheet to determine your pathway towards more strategic portfolio management: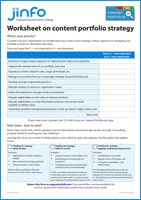 ---
A Jinfo Subscription gets you access to activity-based content to move your projects forward, plus dynamic peer group discussions on meaty topics.