Teeing up value-based budget conversations for content licensing
Jinfo Event
21st September 2021

[Focus: Content Portfolio]
Description
Value, costs, usage, preferences... all of these are part of most budget conversations, whether explicitly or implicitly.
Many of our customers are seeing increased pressure on their buying budgets and demands. In this Community session, we examined ideas on building meaningful conversations based on the value that content and information products deliver to your organisation.
Information licensing professionals discussed their preparation for challenging and complex conversations with both stakeholders and suppliers. We analysed specific examples to help participants apply relevant strategies to their own situations.
Slide presentation and notes
This event has passed, and a recording and/or slide deck is available for Jinfo clients.
If you are a client, please sign in here so that we can check your account:
About this Event
Community event title: Teeing up value-based budget conversations for content licensing

Related reports:
What's new at Jinfo?
Holding vendors to account
Thursday, 15th December 2022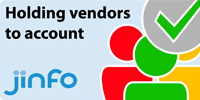 Community dates
---
[New] The Jinfo Subscription is back by popular demand!
13th October 2022
---
"Are you in a "proactive state of resilience"?"
15th November 2022
With the year end looming, our clients are closing out their 2022 deliverables and turning their attention to 2023 and the challenge of a more uncertain operating environment.
Read on the Blog