Negotiation role-play for content licensing professionals
Jinfo Event
7th October 2021

[Focus: Content Portfolio]
Description
Review the report from the latest of our popular negotiation role-play sessions...
This session's scenario: managing difficult conversations with internal stakeholders
What happens when the primary barrier to a successful contract negotiation is with your internal stakeholders rather than your supplier?
Following the role-play, we debriefed and analysed the interaction so that you can consider ways to apply what you've seen and heard to your particular environment.
Special thanks to Jinfo client Susanne DiDonato of DuPont for volunteering for this scenario.
Slide presentation and notes
This event has passed, and a recording and/or slide deck is available for Jinfo clients.
If you are a client, please sign in here so that we can check your account:
About this Event
Community event title: Negotiation role-play for content licensing professionals

Related reports:
What's new at Jinfo?
Holding vendors to account
Thursday, 15th December 2022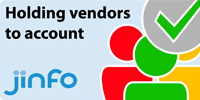 Community dates
---
[New] The Jinfo Subscription is back by popular demand!
13th October 2022
---
"Are you in a "proactive state of resilience"?"
15th November 2022
With the year end looming, our clients are closing out their 2022 deliverables and turning their attention to 2023 and the challenge of a more uncertain operating environment.
Read on the Blog