Stakeholder engagement strategy – tips and tools
Jinfo Event
22nd February 2022

Description
The most effective and strategic information teams are the ones that evolve into internal information consultancies. To succeed in this transformation, you need to manage and maintain meaningful relationships with senior stakeholders – your most important internal clients.
In this session we discussed practical methods for stakeholder engagement that you can start working on right away. In particular, we discussed building an internal customer relationship management (CRM) tool for stakeholder engagement, and reviewed an example of a Jinfo client's results with this tool.
In addition to reviewing the anonymised report from this Community session, you can access more content on stakeholder engagement here, including a recorded webinar walking through the CRM tool discussed in this session.
Slide presentation and notes
This event has passed, and a recording and/or slide deck is available for Jinfo clients.
If you are a client, please sign in here so that we can check your account:
About this Event
Community event title: Stakeholder engagement strategy – tips and tools

Related reports:
What's new at Jinfo?
Holding vendors to account
Thursday, 15th December 2022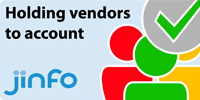 Community dates
---
[New] The Jinfo Subscription is back by popular demand!
13th October 2022
---
"Are you in a "proactive state of resilience"?"
15th November 2022
With the year end looming, our clients are closing out their 2022 deliverables and turning their attention to 2023 and the challenge of a more uncertain operating environment.
Read on the Blog