Holding vendors to account
Jinfo Event
15th December 2022

[Focus: Content Portfolio]
Description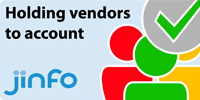 Proactive vendor management programmes shine a spotlight on supplier performance, ensuring they comply with relevant service level agreements, key performance indicators and associated contractual obligations.
During this session we invite you to join with your peers to share, discuss and explore practical steps you can take to proactively manage your suppliers, including:
Meaningful SLA's and KPIs
Tracking vendor performance
Reporting mechanisms
Remedies and remediation.
This Community session continues our series of events within the Focus on Content Portfolio.
Spaces are limited. Use the form below to register your interest as soon as possible.
Complete our quick poll and tell us what you'd like to get out of the session.
Date
Thursday, 15th December at 08:00 Pacific / 10:00 Central / 11:00 Eastern / 16:00 (GMT) / 17:00 Europe, for 60 minutes.
Community Registration
Access to Jinfo Content and Community is available to Jinfo clients.
Is your organisation a Jinfo client?
"Yes"
Please sign in here so that we can check your access to this Community session and provide easier registration (recommended)


Or complete the Registration Enquiry form below and we will check your access and register you for this Community session.
"Not yet"
Learn more about becoming a Jinfo client

"Don't know"
Please complete the Registration Enquiry form below and we will check if your organisation has access and contact you to confirm either way.
About this Event
Community event title: Holding vendors to account
What's new at Jinfo?
Holding vendors to account
Thursday, 15th December 2022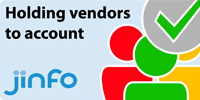 Community dates
---
[New] The Jinfo Subscription is back by popular demand!
13th October 2022
---
"Are you in a "proactive state of resilience"?"
15th November 2022
With the year end looming, our clients are closing out their 2022 deliverables and turning their attention to 2023 and the challenge of a more uncertain operating environment.
Read on the Blog