The impact of AI – how are vendors responding?
Jinfo Community
20th July 2023

Description
Following our popular Community meeting in May, we continued the discussion about the potential impact of artificial intelligence (AI) on the information industry.
We asked information vendors for their perspectives on how AI is impacting their business - how they anticipate this will play out in the months ahead, as they explore options for supporting open large language models, their own closed models and clients' proprietary systems.
The potential of these technologies has implications across their whole business: from data licensing to production routines; from citations and copyright to search functionality; and, of course, end-user experience.
Find out what we learnt and get the perspectives from the CEOs of two suppliers already embracing GenAI:
Alik Sokolov is co-founder and CEO of responsibli.ai - an online investment research platform that extracts insights and data-driven research from large volumes of unstructured text to make socially responsible investments
Markus Karlsson is co-founder and CEO of Affino.com - advising a wide range of clients on their digital transformation strategies, as well as offering a suite of AI services to clients.
Community Registration
Access to Jinfo Content and Community is available through a Jinfo Subscription.
Does your organisation have a Jinfo Subscription?
"Not yet"
Access to this Community session is available through a Jinfo Subscription, which will help your organisation:
Save time and money
Re-invent information services
Define, measure and communicate information value.
---
"Don't know"
Please complete the Registration Enquiry form below and we will check if your organisation has access and contact you to confirm either way.
---
"Don't know"
Contact us to find out if your organisation already has a Jinfo Subscription.

Or use the 'Text Chat' button at the bottom-right of this page for immediate assistance.
About this Event
Community event title: The impact of AI – how are vendors responding?

Related articles:
What's new at Jinfo?
Pivoting to meet the GenAI challenge
Community session
13th December 2023
---
Empower your stakeholders
Blog posting
5th December 2023
---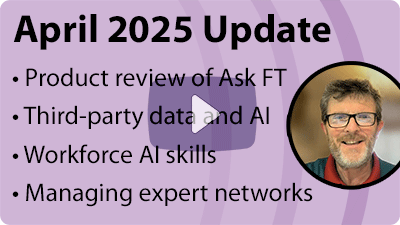 Jinfo December 2023 Update
YouTube video
7th December 2023