State of the industry, 2017 (In-Person)
Jinfo Event
6th February 2017

Description
Join your peers in a discussion about Jinfo's research-based perspectives on the key challenges of 2017 and get a preview of our research agenda for the year.
Topics include:
The "data first" world and how to activate information expertise in response
Shifting from transactional services to strategic relationships
Improving end-user interactions with information
Optimising the structure and visibility of information expertise in your organisation
Changes in user expectations and demands, and how content + technology can evolve to meet them
...plus YOUR top concerns. Share your requests in the "comments" box of the registration form.
Don't miss this unique opportunity to work in-person with our director of research, Robin Neidorf, through facilitated discussion on practical responses to the critical challenges in our industry.
Community sessions are open to any organisation whose subscription includes them. When your registration is approved, you will receive details to join the meeting.
If you have a question about this event, or are unsure if you have access to Community sessions, please contact us.
Multiple Dates:
Washington, DC: Tuesday, 10th January at 13:30 - 15:30 EST
Chicago: Friday, 20th January, at 09:00 - 11:00 CST
London: Thursday, 2nd February at 13:30 - 15:30 GMT (Note: this event is now fully booked)
Amsterdam: Monday, 6th February at 13:30 - 15:30 CET
Community Registration
Access to Jinfo articles and reports is a benefit of a Jinfo Subscription.
Does your organisation have a Jinfo Subscription?
"Yes, we subscribe"
Please sign in here so that we can check your access to this Webinar and provide easier registration (recommended)


Or complete the Registration Enquiry form below and we will check your Subscription and register you for this Webinar
"Not yet"
Purchase a Jinfo Subscription
Subscription Benefits


If you are considering purchasing a Subscription and would like to request taster access to try out the service, please complete the Registration Enquiry form below.
"Don't know"
Please complete the Registration Enquiry form below and we will check if your organisation has a Jinfo Subscription and contact you to confirm either way
About this Event
Community event title: State of the industry, 2017 (In-Person)
What's new at Jinfo?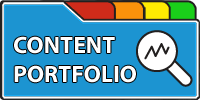 Latest in this Focus: Scorecards. Use Jinfo's step-by-step methodology to craft scorecards to strengthen negotiations, communicate with stakeholders, compare value of products and manage your portfolio more strategically.
---
What's your priority?
Use our self-assessment worksheet to determine your pathway towards more strategic portfolio management: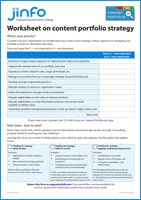 ---
A Jinfo Subscription gets you access to activity-based content to move your projects forward, plus dynamic peer group discussions on meaty topics.