Community
Jinfo Community provides a confidential, research-based, facilitated forum for discussion with your peers on critical issues in information management and strategy.
Community is available through a Jinfo Subscription.
---
View the article, "Findings from the 'Let's talk talent' Community session", to review the anonymised notes from our discussion and catch up on what you missed or reflect on what you heard. It's never been easy to find the right talent, but many information teams...
Proactive vendor management programmes shine a spotlight on supplier performance, ensuring they comply with relevant service level agreements, key performance indicators and associated contractual obligations.During this session, colleagues shared, discussed and explored practical steps to...
Managing content costs has never been more challenging than it is now. The increasingly difficult operating environment is causing organisations to rein in costs, whilst vendors seek to increase their revenues to cover their increasing expenses.Building on previous discussions, this Community...
The challenges on global organisations to successfully manage the ever increasing demand for new information and optimise costs, has never been greater.Understanding how and why your own organisation compares to its peers is often very difficult without having access to a large network of industry...
The marketplace for information and data products and services has always been a challenge to manage. There's no better source of insight on what's happening than your peers who work with the same suppliers to license the same, or similar products.This Community session brought...
You've finished strategic planning and created a clear vision for your most successful future.Now what?There's nothing more frustrating than realising six months have gone by and you still haven't made progress on those exciting improvements. Some of the reasons information teams...
The foundation of Value Chain Analysis requires you to shift your mindset to focus on a question that information teams are not accustomed to answering in detail: "What is the business trying to accomplish?"Mastering this shift takes practice, feedback and – often –...
You are more than an information expert: you are an information leader, working as an advisor and connector between information and your organisation's goals. In this session we shared experiences and tips in making this shift from "information manager" to "information...
The most effective and strategic information teams are the ones that evolve into internal information consultancies. To succeed in this transformation, you need to manage and maintain meaningful relationships with senior stakeholders – your most important internal clients.In this session we...
Your strategy is your vision of what's possible. It's important and rewarding, but often challenging to get started and maintain momentum.In this session we heard from information managers who have made progress on specific strategic initiatives. They shared how small adjustments in...
---
---
What's new at Jinfo?
Pivoting to meet the GenAI challenge
Community session
13th December 2023
---
Empower your stakeholders
Blog posting
5th December 2023
---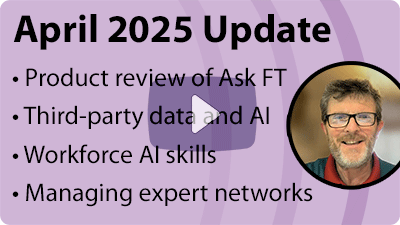 Jinfo December 2023 Update
YouTube video
7th December 2023