Insights and actions report from the Research Focus "Data analytics - ready your information service"
Jinfo Report
22nd December 2016
Abstract
This Insights & Actions report collects a full thematic index of content from the Jinfo Research Focus, "Data analytics - ready your information service" in a convenient PDF package for download and offline reading.
Includes the key insights:
Source expertise at the centre of success for data analytics
Why vendor dialogue matters
Be an essential part of data analytics projects
Index to content in themes:
Ethics, risks and challenges, licensing
Trends and techniques
Being an integral part of data analytics project
Product reviews and market landscapes, Q&As with vendors
Research
Feel free to share this PDF with colleagues.
Content Access
Access to Jinfo Content and Community is available to Jinfo clients.
Is your organisation a Jinfo client?
"Yes"
Please sign in here so that we can check your access to this item:
"Not yet"
Access to this report is available to Jinfo clients. Becoming a client will help your organisation:
Save time and money
Re-invent information services
Define, measure and communicate information value.
---
"Don't know"
Submit the Enquiry form to find out if your organisation is already a client or to discuss your questions or requirements.

Or use the 'Text Chat' button at the bottom-right of this page for immediate assistance.

Robin Neidorf
Director of Research
robin.neidorf@jinfo.com
About this report
Report title: Insights and actions report from the Research Focus "Data analytics - ready your information service"
Pages: 19

Related articles:
What's new at Jinfo?
Upcoming Community sessions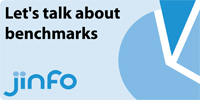 ---
"Is the client always right?"
21st September 2022
Whilst user expressions of value are important, they should be treated with caution. Information leaders can offer significant value by enabling smart decisions about information products and services. Realising this potential hinges on your ability to frame the question and offer potential solutions that serve the best interests of your organisation.
Read on the Blog