Centre of Excellence (step five - your evolution work plan)
Jinfo Webinar
30th July 2021
[Focus: Centre of Excellence]
Description
Evolving to an Information Centre of Excellence and committing to the continuous improvement that keeps you relevant and strategic requires a shift in perspective on department operations.
Your evolution work plan shouldn't just include how you deliver services and communicate with users and stakeholders, it also needs to capture all of the elements of running a successful small business, including:
Service design
Service delivery
Customer relations/account management
Partnership management
Evaluation and continuous improvement
Future planning.
In this webinar, we will walk through the activity Jinfo has designed to support your planning and implementation of a comprehensive work plan for evolving to an Information Centre of Excellence.
To get the most out of this recording, review this article from our Focus on Centre of Excellence:
Viewing this recording alongside the activity will enable you to create a practical plan focused on the most valuable activities.
If you want tailored guidance from Jinfo's experienced analysts, contact us about Consulting on Centre of Excellence today.
Webinar Recording and/or Slide Deck
This event has passed, and a recording and/or slide deck is available for Jinfo clients.
If you are a client, please sign in here so that we can check your account:
About this Webinar
Webinar title: Centre of Excellence (step five - your evolution work plan)

Related articles:
What's new at Jinfo?
Holding vendors to account
Thursday, 15th December 2022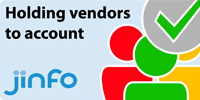 Community dates
---
[New] The Jinfo Subscription is back by popular demand!
13th October 2022
---
"Are you in a "proactive state of resilience"?"
15th November 2022
With the year end looming, our clients are closing out their 2022 deliverables and turning their attention to 2023 and the challenge of a more uncertain operating environment.
Read on the Blog