Candace Cathey

Candace M. Cathey is an experienced information professional and a MLS graduate from the University of North Texas Law Librarianship and Legal Informatics Program. She is a member of AALL and held positions in the Dallas Chapter serving as president, VP/program chair, treasurer, and blog contributor. She is currently the past president of DALL and a member of the Southwestern Association of Law Librarians.
Follow Candace via Twitter @Candace_Cathey. She manages her blog, Create, Innovate & Reinvent providing information and resources related to legal, business, competitive intelligence and much more. You can connect with her on LinkedIn.
Articles by Candace Cathey:
---

The ebbs and flows of outsourcing your information centre
Friday, 16th September 2016
Information organisations in sectors from legal to pharmaceutical are relying more on alternative solutions to provide quality information services. Candace M. Cathey explores the drivers, challenges and benefits of outsourcing along with highlighting key vendors Integreon, LibSource, Information Matters from Tribal Group and Visionary Information Solutions.
---

Jinfo for Legal
Tuesday, 15th March 2016
Collaboration between information professionals and information technology experts has long been lacking. As use of online and mobile sources becomes more prevalent in the legal sector, together with demands of the digital workplace, there is an ever-greater demand for IS and IT experts to work together a long-term basis. We highlight recent Jinfo content which helps tackle these challenges.
---

FreePint for Legal
Tuesday, 8th December 2015
Information managers from all sectors are searching for accurate content. There is plenty of information on the internet available through search engines such as Google. The challenge for information professionals in the legal sector is how to decide the true value of content when searching for news, people, and public and company information.
---

FreePint for Legal
Monday, 7th September 2015
Sharing content, data licensing and authentication are challenging for information managers in the legal sector. Candace Cathey looks at how these issues, plus accessing information in new ways through ebooks and apps are covered in recent FreePint articles and events.
---

Linex Systems - Current Awareness Solution for Information Organisers
Thursday, 4th June 2015
Following her in-depth review, Candace M. Cathey highlights some key features within Linex Systems, a powerful current awareness application for legal and business information professionals.
Reports by Candace Cathey:
---

Product Review of Linex Systems
Tuesday, 2nd June 2015
In-depth product review of Linex Systems, a one-stop, current awareness management tool for the legal, business and academic sector that aggregates, r...
---

Product Review of Solcara
Tuesday, 12th May 2015
Product review of cloud-based legal search application Solcara by Thomson Reuters Legal UK and Ireland. The federated search and knowledge management...
What's new at Jinfo?
Jinfo Overview - August 2021
View on YouTube
---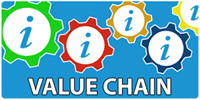 Five newly recorded webinars on how to complete the activities in our Focus on Value Chain now available.
---
Express value the way stakeholders do with Value Chain analysis
"I can now sit in a meeting with my stakeholders and articulate the role information plays in their workflows. They understand our contribution to their success." Information Senior Scientist, heavy manufacturing industry
---
With Jinfo Consulting, you get accountability, fine-tuned guidance and industry-wide perspective.