Become a more strategic content portfolio manager
Jinfo Blog
Thursday, 28th January 2021
Abstract
Jinfo's latest Focus will help you develop your strategic content portfolio management skills and get to grips with content licensing and value-driven management.
Item
The transformation of information contract managers into strategic content portfolio managers is one of the most exciting developments I've witnessed through Jinfo's work.
Jinfo's Focus on Content Portfolio connects you with the activities, peers and projects you need to stay on the leading edge of this domain.
Start the same transformation by using our simple self-assessment worksheet to identify the gaps between your current practice for portfolio management and Jinfo's proven best-practice: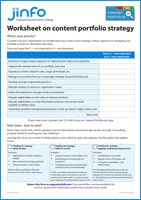 You can even return the worksheet to us for a quick-start guide on the practical resources we offer to support such needs as demonstrating the value of your contracts, communicating with stakeholders and shifting to a more strategic model for managing your portfolio.
Simply email your responses to support@jinfo.com, and an analyst will get back to you within two business days.
No one understands the complexity of content licensing the way you do. Jinfo's Focus on Content Portfolio connects you with the activities, peers and projects you need to stay on the leading edge of strategic portfolio management.
About this article
Blog post title: Become a more strategic content portfolio manager
What's new at Jinfo?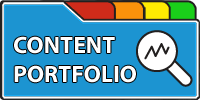 Latest in this Focus: Scorecards. Use Jinfo's step-by-step methodology to craft scorecards to strengthen negotiations, communicate with stakeholders, compare value of products and manage your portfolio more strategically.
---
What's your priority?
Use our self-assessment worksheet to determine your pathway towards more strategic portfolio management: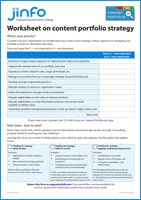 ---
A Jinfo Subscription gets you access to activity-based content to move your projects forward, plus dynamic peer group discussions on meaty topics.
Benefit from our research
Our proven processes, resources and guidance will help your team make the shift from transaction centre to strategic asset.
---
Designed around the most common challenges and pain points for time- and resource-strapped information teams
Optimise your operations
Holistic content portfolio management
Future-proof your information service
Executive-ready communications
---
A tailored overview of our research and active discussion with your Jinfo analyst.
---
Measure your starting point to articulate your strengths and set priorities for future improvements. Assessments gauge risk, capacity, value and more.
---
Read case studies, and start the conversation:
Connect your team with the practical tools, original research and expertise to build and support information strategy in your organisation.
A Jinfo Subscription gives access to all Content (articles, reports, webinars) and Community.