Discover the power... of a well-chosen hat
Jinfo Blog
Tuesday, 2nd November 2021
Abstract
Seldom over-resourced, information team members often have to wear multiple hats. How do you stay on top of identifying the responsibilities and roles that will allow you to maintain clarity on the progress, quality and impact of your work? Jinfo's Centre of Excellence methodology emphasises how to keep on top of it all.
Item
A recent workshop with a tiny information team supporting a massive global R&D function put me in mind of the decades I spent doing very similar work in another R&D-driven business.
As we coached them to the finish line of completing the five steps in the Focus on Centre of Excellence, one sentence came up over and over:
"What hat are you wearing?"
Tiny teams, by necessity, comprise staff members who can do a lot of different things, juggling multiple tasks and goals all day, every day. When it comes to operating as a Centre of Excellence, though, Jinfo's methodology emphasises the importance of consciously being aware of which "hat" you are wearing at the time:
Strategist: Connecting the organisation's goals with the information department's goals
Manager: Operationalising department goals into projects and processes
Tactical worker: Getting tasks done.
All three of these hats may need to be worn by the same person. But identifying the responsibilities of each role and then donning a particular hat enables even the busiest tiny department to maintain clarity on:
Progress: Is the work getting done?
Quality: Is the work product aligned with the department's standards and goals?
Impact: Is the work actually delivering value to the organisation?
Sounds simple, but it takes practice, especially when the inbox fills up every time you turn your back. As a Jinfo client, you can connect with peers who are also organising their collection of hats, or work directly with us to ensure your hats are appropriate and accessible to you at all times.
Start the conversation, or contact me at susan.gleckner@jinfo.com to learn more.
About this article
Blog post title: Discover the power... of a well-chosen hat
What's new at Jinfo?
Holding vendors to account
Thursday, 15th December 2022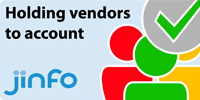 Community dates
---
[New] The Jinfo Subscription is back by popular demand!
13th October 2022
---
"Are you in a "proactive state of resilience"?"
15th November 2022
With the year end looming, our clients are closing out their 2022 deliverables and turning their attention to 2023 and the challenge of a more uncertain operating environment.
Read on the Blog