Big ideas move forward with small steps
Jinfo Blog
Wednesday, 15th December 2021
Abstract
With a clear path ahead for the New Year, it's time for big ideas: this time next year, when you reflect on 2022, what do you want to have accomplished? Several Jinfo clients are working on some big ideas in information strategy, shared in our latest short video. Remind yourself how small steps make big ideas work.
Item
In this month's 3-minute update video on YouTube I share several of the big ideas in information strategy that Jinfo clients are undertaking. They're excited to make progress; we're excited to help them.
Think forward to December of 2022. What do you want to be able to say you've accomplished? What's the big idea you've progressed or even fully realised?
I sometimes think that our biggest value to our clients comes as much from the mundane aspects of our work together as anything else:
Our relationship embeds time away from day-to-day tasks directly into your schedule
We help you break down your big ideas into interim goals and milestones, without losing excitement or momentum
When challenges inevitably arise, we give you perspective and knowledgeable feedback so that you can come up with solutions that break out of your accustomed way of thinking.
It's the small, practical, focused steps, taken consistently over time, that turn big ideas into big results.
Our unique research and methodologies mean you don't have to reinvent the wheel to make your journey, because you're building on our toolkit of solutions, each of which has been applied, tested and improved with other clients.
Take the small first step and contact me about becoming a client.
About this article
Blog post title: Big ideas move forward with small steps
What's new at Jinfo?
Holding vendors to account
Thursday, 15th December 2022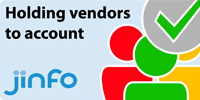 Community dates
---
[New] The Jinfo Subscription is back by popular demand!
13th October 2022
---
"Are you in a "proactive state of resilience"?"
15th November 2022
With the year end looming, our clients are closing out their 2022 deliverables and turning their attention to 2023 and the challenge of a more uncertain operating environment.
Read on the Blog