Practise the seven habits of information leaders
Jinfo Blog
Wednesday, 9th March 2022
Abstract
Get our quick reference guide to the subtle shifts and practices that turn good information managers into excellent information leaders. We're all somewhere on the journey towards leadership – take the next step with practical suggestions and examples from Jinfo clients who are also on the journey.
Item
Just before sitting down to write, I signed off from a fun and productive workshop with a Jinfo client I've worked with for over three years. Over that time, I've had the pleasure of guiding and supporting this team in their growth as information leaders.
Every Jinfo client is somewhere on that journey – some are just starting out, others are already practising the habits and behaviours of confident leadership.
To better articulate the nature of this shift, Jinfo's analyst team brainstormed this list of habits and characteristics that distinguish information leaders from information managers:
For additional practical examples of the actions, effectiveness and impact of information leaders, check out my latest video on Jinfo's YouTube channel:
"Become an information leader"
(YouTube; 5 minutes)
Leadership is an ongoing evolution – there's always room to grow further, and always opportunities to learn from others on the same journey.
For inspiration and practical tips to support your own journey, consider attending our March Community session:
"Advance as an information leader, activate your expertise"
(Jinfo Community; 29th March 2022)
Registration is open to all Jinfo clients, but if you're not yet a client, start the conversation with us. We can help you visualise the type of leader you want to be by evaluating your environment, your goals and your strengths.
And I'd love to hear from you – what does the phrase "information leadership" mean to you? How do you practise information leadership? Email me at robin.neidorf@jinfo.com to share your thoughts.
About this article
Blog post title: Practise the seven habits of information leaders
What's new at Jinfo?
Holding vendors to account
Thursday, 15th December 2022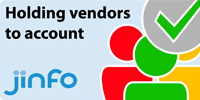 Community dates
---
[New] The Jinfo Subscription is back by popular demand!
13th October 2022
---
"Are you in a "proactive state of resilience"?"
15th November 2022
With the year end looming, our clients are closing out their 2022 deliverables and turning their attention to 2023 and the challenge of a more uncertain operating environment.
Read on the Blog