Does your data tell a story to your stakeholders?
Jinfo Blog
Wednesday, 25th May 2022
Abstract
Understanding the value of information requires context, and storytelling is how we can make context clear. Jinfo's methodology of Value Chain Analysis enables you to construct a compelling story for your stakeholders about the value of information. Wondering how it works? That's also a compelling story – learn more.
Item
The five-minute overview Jinfo's Director of Research Robin Neidorf provides in our most recent YouTube video ("What's the origin of Value Chain Analysis?") tells a story about how information builds up until a new insight emerges.
Following its release, we received a number of messages from current and past Jinfo clients, with variations of this response: "I get it now."
On reflection, I think that the entire process of Value Chain Analysis enables you to do the same thing: assemble information into a structure and context that makes the impact and benefit clear.
Storytelling is how humans make abstract ideas concrete, and nothing could be more abstract than "the value of information." But closing the gap between data and impact is, as we all know, tricky.
With publication of "Step 3: Application" in Jinfo's Focus on Value Chain, the entire methodology of identifying, capturing, and then – most importantly – interpreting and contexutalising data is now available to clients on our website.
For each step, a recorded webinar walks you through the concepts, and a PDF activity provides the structure for applying them to your world. By completing these steps, you develop your basic toolkit for telling your value story to your stakeholders.
If Robin's storytelling (5 minutes, view now) enables you to picture benefits differently, I encourage you to explore the Focus on Value Chain further – we've seen the transformation this methodology prompts, and when you become a client, we can help you realise it.
About this article
Blog post title: Does your data tell a story to your stakeholders?
What's new at Jinfo?
Holding vendors to account
Thursday, 15th December 2022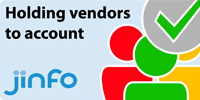 Community dates
---
[New] The Jinfo Subscription is back by popular demand!
13th October 2022
---
"Are you in a "proactive state of resilience"?"
15th November 2022
With the year end looming, our clients are closing out their 2022 deliverables and turning their attention to 2023 and the challenge of a more uncertain operating environment.
Read on the Blog