How do you articulate your value? Do you need to licence content for generative AI? Are you planning for your succession?
Jinfo Blog
3rd October 2023
Abstract
It is imperative to align and articulate your value when you are under pressure to reduce costs, and one CEO provides some insights. Generative AI has massive potential, but licensing content for GenAI is a challenge and one we will discuss at our next Community session. Do you have a succession plan should you decide to move on? Learn more from our most recent report from Helene Russell.


Item
The value of information professionals
I was reflecting on a recent interview with Jack Kokko, CEO of Alphasense. In a couple of sentences he clearly articulated the value of information professionals to the modern organisation:
'My mantra is "every company's enterprise value is the cumulative sum of the decisions that it makes." We help our clients succeed and compete more effectively by having the right information fueling their strategy. They make better, quicker, and more confident decisions at every turn, and those decisions accumulate and turn into business success'
We have always promoted this view, with Jinfo's Focus on Value Chain materials having successfully helped many clients align their value proposition with their organisations' strategy.
How do you licence content for this generative AI? What are the implications?
If you are struggling with suppliers and their contracts which are no longer fit for purpose, then register for our Community session "Legal implications of licensing third party content for GenAI" (24th October)
We'll discuss the challenges and pitfalls with an attorney who has 40 years experience of specialised expertise in licensing third party content and data. You'll also receive a copy of his detailed briefing note, containing top tips on this tricky issue.
Managing the talent pipeline and succession
As organisational hierarchies have become flatter, the gap between the information leaders and their teams has steadily grown. Succession planning is a difficult but vital activity to nurture skills and know-how for future leaders.
Read our new report 'Managing your talent pipeline: Knowledge and Succession', which comes off the back of our recent Community session on the topic.
Setting aside concerns that you might be working your way out of your role, investment in the next generation is vital to ensure information management remains a core competency of the organisation.
Socials
Do follow Jinfo's latest updates on LinkedIn and YouTube, where we're posting snippets from our discussions with suppliers and experts.
Please remember to like, follow and subscribe, to receive these updates as soon as they are available.
Finally, I'm always available for a conversation about the benefits of a Jinfo Subscription and Jinfo Consulting.
About this article
Blog post title: How do you articulate your value? Do you need to licence content for generative AI? Are you planning for your succession?
What's new at Jinfo?
Pivoting to meet the GenAI challenge
Community session
13th December 2023
---
Empower your stakeholders
Blog posting
5th December 2023
---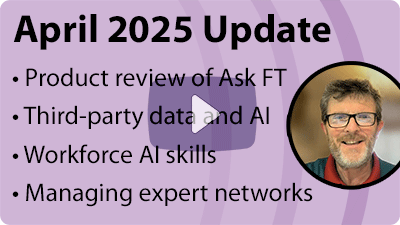 Jinfo December 2023 Update
YouTube video
7th December 2023