B2B: glass half empty or half full?
Jinfo Blog
Wednesday, 16th November 2011
Item
In a rerun of the situation a year ago, information industry analysts on each side of the Atlantic have recently published their own assessments of the health of the business-to-business information market. The differences in their prognoses could scarcely be more stark.
After declining revenues in 2009, the United Kingdom B2B market did begin to stabilise in 2010, although there was still a marginal decline of 0.5% in market size, says a report from the British based IRN Research (£350). Some limited growth can be expected across all market sectors in 2012 for the first time since 2008, it continues – but, it warns, given the recent downgrading of UK economic and advertising expenditure forecasts, this growth could be "quickly curtailed".
The United States economy may be facing problems scarcely less severe than those of the UK, but in contrast to IRN's tone, the US-based Outsell's market forecast and trends report for B2B trade publishing and company information ($1,295) sounds a distinctly upbeat note. It foresees the segment more than doubling its growth between 2011 and 2014 compared to 2009, growing 3.4% in 2011.
Unlike IRN, Outsell doesn't release any outline findings – so it's obviously difficult to tell whether these two reports really are comparing like with like. However the degree of consensus between them this time last year, when Outsell's findings were made available to LiveWire, does indicate that they're covering broadly the same territory – so why the stark difference in tone?
Perhaps there are some clues to be gained, despite the paucity of information. Outsell speaks of the "disruptive forces" that up and coming players embody, and notes that some more established companies are also worth watching because of how they are diversifying or adapting to the market; whereas IRN focuses on the challenges that those newcomers pose to traditional directory and trade journal publishers.
Poster children for the problems that IRN chronicles would likely include Reed Business Information and Yell. Trade journal specialist RBI faced a prolonged period of title disposals a couple of years back (LiveWire coverage here) and was still confronting big challenges by early this year (more LiveWire coverage), while directory services provider Yell has faced chronic financial problems (LiveWire mentions from last April, May and July) and is just now taking steps to renegotiate the terms of the loans it has needed to finance expansion.
So – glass half empty or half full? Whichever prognosis you take, the issue for content procurement professionals seems to be whether to stand by tried and trusted suppliers as they work hard to reinvent themselves, or take a chance on up and coming newcomers and hope that the disruption they cause turns out to be the creative kind.
About this article
Blog post title: B2B: glass half empty or half full?
What's new at Jinfo?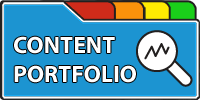 Latest in this Focus: Scorecards. Use Jinfo's step-by-step methodology to craft scorecards to strengthen negotiations, communicate with stakeholders, compare value of products and manage your portfolio more strategically.
---
What's your priority?
Use our self-assessment worksheet to determine your pathway towards more strategic portfolio management: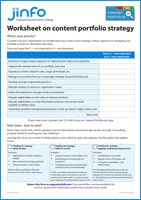 ---
A Jinfo Subscription gets you access to activity-based content to move your projects forward, plus dynamic peer group discussions on meaty topics.
Benefit from our research
Our proven processes, resources and guidance will help your team make the shift from transaction centre to strategic asset.
---
Designed around the most common challenges and pain points for time- and resource-strapped information teams
Optimise your operations
Holistic content portfolio management
Future-proof your information service
Executive-ready communications
---
A tailored overview of our research and active discussion with your Jinfo analyst.
---
Measure your starting point to articulate your strengths and set priorities for future improvements. Assessments gauge risk, capacity, value and more.
---
Read case studies, and start the conversation:
Connect your team with the practical tools, original research and expertise to build and support information strategy in your organisation.
A Jinfo Subscription gives access to all Content (articles, reports, webinars) and Community.