Vendor Value: Exploring What Vendors Get from FreePint
Jinfo Blog
Monday, 26th August 2013
Abstract
For vendors of information products and services it's imperative to keep up with issues, evolving client needs, market developments and key products and services. Ann Marie Plankey looks at recent FreePint Articles and Reports and examines how a FreePint Subscription helps vendors keep updated in essential areas from Thomson Reuters' new product launches to company divestment such as Pearson's planned sale of Mergermarket. Regular product reviews and mini reviews investigate key products such as D&B360 and Global Financial Data while FreePint's original research sheds light on topics from news aggregation products and trends to mobile deployment in the enterprise.
Item
In my work as the vendor account manager for FreePint, I often talk with marketing staff about market insights, competitive intelligence and trend awareness for the information industry. A FreePint Subscription offers comprehensive and flexible access to articles and reports that serve exactly these needs.
Recent FreePint Articles and Reports of interest to vendors of information products and services:
Articles:
Reports:
Why These Articles and Reports?
Product reviews like the ones on Leadership Companies Premium, Global Financial Data, D&B360 and Alacra Compliance Enterprise provide a unique view into competitor offerings, as well as a valuable perspective on what buyers are looking for in products.
Additional reviews can be found in the FreePint Topic: Sources section of our collection, or by searching the site for a product name.
Comparative items like the survey of six vendors for sales intelligence services lay out the key characteristics of a segment of the marketplace and highlight the product variables and the players in the market.
Topical items such as the report on news aggregation products and trends, the related article on "why investigate news aggregation?" and research results on mobile deployment in the enterprise offer real-world, practical insight on topics of urgent importance to content buyers and information managers.
Subscribe Now
Gain access to the full archive of FreePint Articles and Reports, plus have the ability to share these resources with anyone else at your organisation.
Complete our online form today to start your FreePint Subscription.
About this article
Blog post title: Vendor Value: Exploring What Vendors Get from FreePint

Related articles:

Related Blog items:
What's new at Jinfo?
Jinfo Overview - August 2021
View on YouTube
---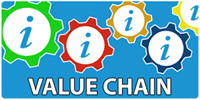 Five newly recorded webinars on how to complete the activities in our Focus on Value Chain now available.
---
Express value the way stakeholders do with Value Chain analysis
"I can now sit in a meeting with my stakeholders and articulate the role information plays in their workflows. They understand our contribution to their success." Information Senior Scientist, heavy manufacturing industry
---
With Jinfo Consulting, you get accountability, fine-tuned guidance and industry-wide perspective.
Benefit from our research
Our proven processes, resources and guidance will help your team make the shift from transaction centre to strategic asset.
---
Designed around the most common challenges and pain points for time- and resource-strapped information teams
Optimise your operations
Holistic content portfolio management
Future-proof your information service
Executive-ready communications
---
A tailored overview of our research and active discussion with your Jinfo analyst.
---
Measure your starting point to articulate your strengths and set priorities for future improvements. Assessments gauge risk, capacity, value and more.
---
Read case studies, and start the conversation:
Connect your team with the practical tools, original research and expertise to build and support information strategy in your organisation.
Jinfo Content and Community gives access to all Content (articles, reports, webinars) and Community.