Strengthen your information contract renewals with value chain analysis
Jinfo Blog
Thursday, 29th October 2020
Abstract
Negotiating information contracts with vendors can be difficult without enough data on the true value derived from a product. Jinfo's Consulting Pilot on Value Chain enables you to define the impact of products on generating revenue, enabling efficiency and managing risk. Take ownership of value and better navigate these negotiations.
Item
One of the biggest gaps information professionals have with their information contract negotiations is the lack of data on value and impact. Without this perspective, vendors take the lead on defining value through usage, volume, seats, etc, rather than focusing on the value that the business acquires from the product.
It's YOUR definition of value
How would it feel to enter your contract negotiations with a scorecard to show your suppliers how they contribute (or not) to these goals?
Generating revenue
Fostering innovation
Enabling efficiency
Managing risk.
Sound impossible? Value chain analysis can get you there.
Jinfo's Consulting Pilot on Value Chain puts you on the fast track to use this powerful framework to communicate your definition of value. Our data-driven approach will identify and work through any tricky or difficult points, so you can successfully influence your negotiation.
Using our tailored process, your Jinfo analyst will walk you through the questions you need to answer to describe value, then map usage and other data to help you score and communicate with vendors.
Data matters
The best part of the value chain process is that it provides you with a data-driven view into value and with Jinfo's industry-wide perspective, we can help you reframe the data based on its value to your business.
Getting started with value chain analysis lets you quickly develop a foundation to communicate with suppliers based on the data that demonstrates value. Jinfo helps you answer questions critical to your negotiations to build your value map and tie these to your business goals.
A Consulting Pilot on Value Chain is a practical and productive way to reset negotiations. In as little as two weeks, you can reap the benefits of our guidance, insights, and a dedicated Jinfo analyst to hold you accountable to an activity deadline.
Find out more and get started today.
About this article
Blog post title: Strengthen your information contract renewals with value chain analysis

Related articles:
What's new at Jinfo?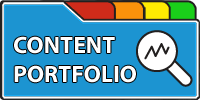 Latest in this Focus: Scorecards. Use Jinfo's step-by-step methodology to craft scorecards to strengthen negotiations, communicate with stakeholders, compare value of products and manage your portfolio more strategically.
---
What's your priority?
Use our self-assessment worksheet to determine your pathway towards more strategic portfolio management: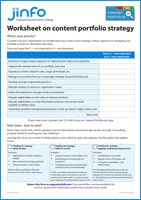 ---
A Jinfo Subscription gets you access to activity-based content to move your projects forward, plus dynamic peer group discussions on meaty topics.
Benefit from our research
Our proven processes, resources and guidance will help your team make the shift from transaction centre to strategic asset.
---
Designed around the most common challenges and pain points for time- and resource-strapped information teams
Optimise your operations
Holistic content portfolio management
Future-proof your information service
Executive-ready communications
---
A tailored overview of our research and active discussion with your Jinfo analyst.
---
Measure your starting point to articulate your strengths and set priorities for future improvements. Assessments gauge risk, capacity, value and more.
---
Read case studies, and start the conversation:
Connect your team with the practical tools, original research and expertise to build and support information strategy in your organisation.
A Jinfo Subscription gives access to all Content (articles, reports, webinars) and Community.