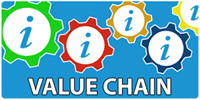 Value chain analysis is quickly demystified when you start learning the process. A pilot project is the perfect way to:
Tailor the analysis to your organisation's needs


Quantify the specific ways your organisation will benefit from applying value chain analysis


Design an approach to full-scale analysis that works for your team, timing and budget.
Who should consider a pilot project?
A pilot is right for you if:
You prefer to start with a defined scope that enables you to prove the bigger value of the analysis


You have a specific, time-sensitive need, such as an upcoming license renewal.
Get started
What ROI could you get from a Consulting Pilot on Value Chain?
Download this worksheet to develop your answer.
Regardless of your prompt, your pilot will enable you to start to learn and practice the basics of value chain analysis, while developing the proof-points you need to secure executive endorsement for full-scale analysis and implementation.
How it works
Jinfo Consulting has designed a 'get started' pilot to fit into busy schedules and tight budgets. You can complete this pilot in as little as three weeks, with an investment of £4800.
Your pilot project will include:
Two online workshops with a dedicated Jinfo analyst
Homework developed on activities proven to get you to an actionable result as efficiently as possible
Written feedback and recommendations from your Jinfo analyst
A debriefing meeting to resolve any questions and determine your next steps.
Or, if you'd like to focus on a specific contract renewal, service or area of the business for your pilot, complete the form to tell us more, and we'll schedule an initial call to design something for you.
A key goal of a pilot project is to enable you to quantify the benefits of a full Consulting on Value Chain project.
Get started by completing the form.
Benefits of Jinfo Consulting
Accountability: There's nothing like a deadline to ensure you make time for a well-defined activity
Fine-tuned guidance: During and after your assessment, you'll have discussion, coaching and feedback specific to your needs and environment
Industry-wide perspective: Your analyst brings insights we've gained through all the other information teams we've worked with.
Get started
"Without your insights, encouragement, and asking the difficult questions, we would not be where we are today. You encouraged us to be creative, stretch our expectations, and let go of 'old' thinking and doing."
Get Started
Complete this form to request an initial meeting. We will schedule a call to discuss your goals and timing, and answer any questions you have.
If you prefer to receive a one-page proposal first, please indicate in the comments.
Privacy policy and terms of use
(Opens in a new window)
Jinfo's Consulting Pilot on Value Chain enhances the Subscription resources available in the Focus on Value Chain.