2021 budgets, the future of information, and you
Jinfo Blog
11th November 2020
Abstract
Budget planning for 2021 will already be a challenging enough process without navigating the impact of the pandemic on your organisation. Jinfo Consulting enables you to meet the demands of preparing a budget by using our expertise to help you link value to your organisation's strategy. Take the opportunity to effectively align your goals and build strategic foresight for success.
Item
As 2020 draws to a close, you may be considering, like many of our clients, how to budget for success and achieve the best result for 2021.
The COVID-19 crisis has affected sectors in different ways and will continue to disrupt – but here's what we do know:
In-person options for events, training and team-building are likely to be limited, especially in the first half of 2021

The "new normal" for business looks very different to what it did a year ago… which means different needs for and pressures on information services, expertise, and budgets in your organisation

Your organisation needs – more than ever – access to information products, services and expertise, aligned with its goals and objectives.
A resilient budgeting process links into your organisation's overall business strategy. How well poised are you to face this future, strategically and effectively?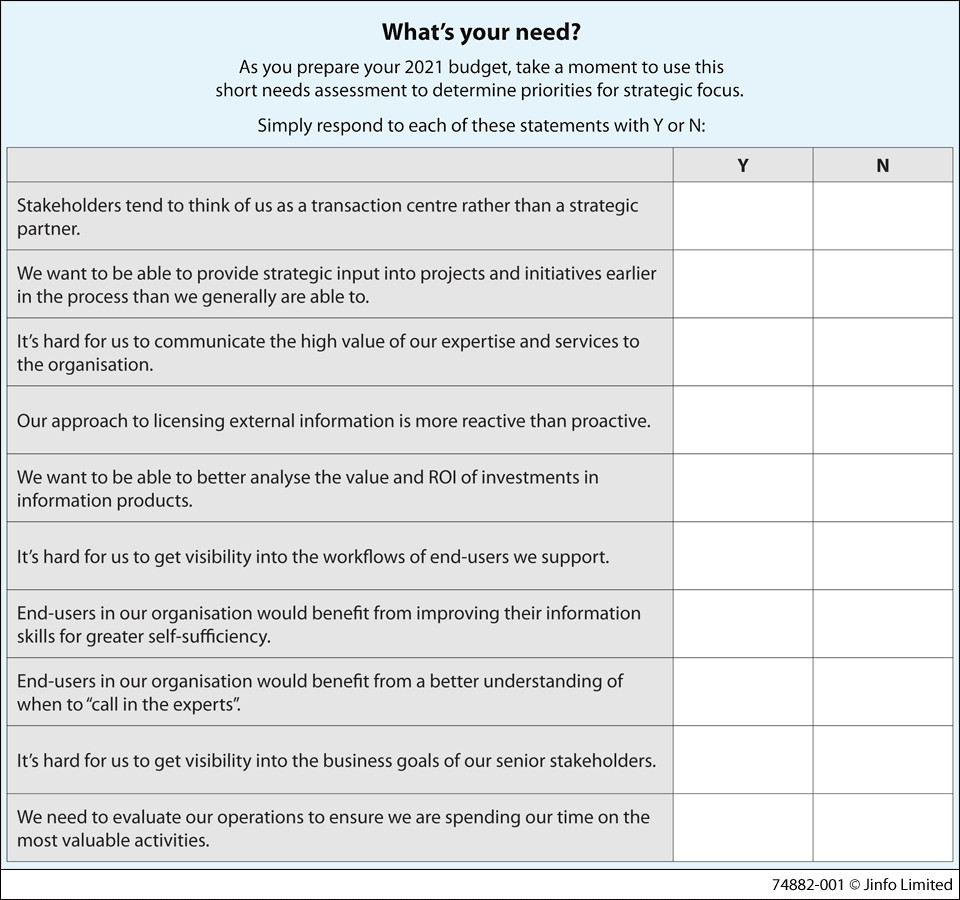 Click the figure to view a larger version.
Download a PDF version of this worksheet here.
Jinfo can help
For every statement you answered with Y, Jinfo can help you with Content, Community, and Consulting designed to:
Connect information products, services and expertise with value to the business

Develop and implement holistic content portfolio management

Create and deliver expert services and end-user empowerment as an Information Centre of Excellence.
Want to work on your own? A Jinfo Subscription gives you access to all our Content and Community sessions to support your information service team's goals and objectives.
Prefer to have structure, perspective and accountability to ensure you hit your goals for the year? Consider Jinfo Consulting, where we work alongside you to solve challenges and strengthen your information service team as a valuable asset within your organisation.
Get started
Share your responses to these statements and questions with us to contribute to your financial planning.
Talk with us about your 2021 budgeting process and what looks different for you – operationally, financially, strategically – in the unique future we're all facing. By investing now, you can build a resilient budget to navigate the coming months - contact us today.
About this article
Blog post title: 2021 budgets, the future of information, and you
What's new at Jinfo?
[New] Contribute to the news and current awareness survey 2023
Community session – Initial findings from the News and Current Awareness Survey
20th June 2023
Community dates
---
"Vendor management template, news and current awareness survey, AI"
3rd May 2023
Check out our new vendor management template and contribute to our latest survey on the provision of news and current awareness services. Come along to our next Community session to discuss the impact of AI and get some great tips for managing up from our April session.
Read on the Blog