Negotiation clinic - role-play and Q&A
Jinfo Event
13th April 2021

[Focus: Content Portfolio]
Description
This session involved role-playing different negotiation scenarios, plus discussion and Q&A with participants to consider a variety of approaches to points of negotiation.
If you missed the session, download the anonymised notes today. Be sure to register for future "negotiation clinics" to participate in these unique opportunities for peer-based learning.
Slide presentation and notes
This event has passed, and a recording and/or slide deck is available for Jinfo clients.
If you are a client, please sign in here so that we can check your account:
About this Event
Community event title: Negotiation clinic - role-play and Q&A

Related reports:
What's new at Jinfo?
Holding vendors to account
Thursday, 15th December 2022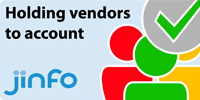 Community dates
---
[New] The Jinfo Subscription is back by popular demand!
13th October 2022
---
"Are you in a "proactive state of resilience"?"
15th November 2022
With the year end looming, our clients are closing out their 2022 deliverables and turning their attention to 2023 and the challenge of a more uncertain operating environment.
Read on the Blog