Investment philosophies for strategic portfolio management
Jinfo Event
2nd December 2021

[Focus: Content Portfolio]
Description
Financial managers build wealth portfolios based on investment philosophies. Your organisation's portfolio of third-party content should also be based on an investment philosophy, which clearly states objectives, strategies, and measures of success.
In this session, we reviewed and analysed real-world examples of investment philosophies used by members of our community.
We also talked through the principles of establishing an investment philosophy, so that you can develop – or enhance – yours.
Slide presentation and notes
This event has passed, and a recording and/or slide deck is available for Jinfo clients.
If you are a client, please sign in here so that we can check your account:
About this Event
Community event title: Investment philosophies for strategic portfolio management

Related reports:
What's new at Jinfo?
Holding vendors to account
Thursday, 15th December 2022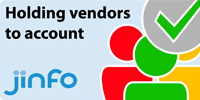 Community dates
---
[New] The Jinfo Subscription is back by popular demand!
13th October 2022
---
"Are you in a "proactive state of resilience"?"
15th November 2022
With the year end looming, our clients are closing out their 2022 deliverables and turning their attention to 2023 and the challenge of a more uncertain operating environment.
Read on the Blog