The Inside Circle – let's talk suppliers
Jinfo Event
29th September 2022

Description
The marketplace for information and data products and services has always been a challenge to manage. There's no better source of insight on what's happening than your peers who work with the same suppliers to license the same, or similar products.
This Community session brought together a group of insiders who shared insights to inform and shape your upcoming negotiations. Without revealing sensitive information, we discussed:
Current commercial strategies of suppliers
Emerging trends you may encounter in supplier relations
Communicating your definition of "value for money" effectively.
View the article, "Three takeaways from the 'Let's talk suppliers' Community session", to review the anonymised notes from our discussion and catch up on what you missed or reflect on what you heard.
Community Registration
Access to Jinfo Content and Community is available to Jinfo clients.
Is your organisation a Jinfo client?
"Yes"
Please sign in here so that we can check your access to this Community session and provide easier registration (recommended)


Or complete the Registration Enquiry form below and we will check your access and register you for this Community session.
"Not yet"
Learn more about becoming a Jinfo client

"Don't know"
Please complete the Registration Enquiry form below and we will check if your organisation has access and contact you to confirm either way.
About this Event
Community event title: The Inside Circle – let's talk suppliers

Related articles:
What's new at Jinfo?
Holding vendors to account
Thursday, 15th December 2022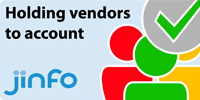 Community dates
---
[New] The Jinfo Subscription is back by popular demand!
13th October 2022
---
"Are you in a "proactive state of resilience"?"
15th November 2022
With the year end looming, our clients are closing out their 2022 deliverables and turning their attention to 2023 and the challenge of a more uncertain operating environment.
Read on the Blog