Jinfo for Information Centres of Excellence
Jinfo Event
6th April 2020

Description
Join a quarterly confidential discussion of professionals responsible for optimising an information service. You'll get insight into Jinfo's current research and resources supporting this role, along with plenty of time to talk with peers about challenges, questions, tools and best practices.
In addition to research and resource coverage, half of each session is devoted to open dialogue any of your concerns and challenges relating to information service optimisation. You are invited to submit questions ahead of time (even if you cannot attend), or bring them with you to the session. Anonymised notes will be shared following the session to continue the dialogue past the designated hour.
This Community session is open to any organisation with a Jinfo subscription. When your registration is approved, you will receive details to join the teleconference.
Date:
Monday, 6th April 2020 at 08:00 Pacific / 10:00 Central / 11:00 Eastern / 16:00 (BST) / 17:00 Europe, 60 minutes.
Slide presentation and notes
This event has passed, and a recording and/or slide deck is available for Jinfo clients.
If you are a client, please sign in here so that we can check your account:
About this Event
Community event title: Jinfo for Information Centres of Excellence

Related reports:
What's new at Jinfo?
Holding vendors to account
Thursday, 15th December 2022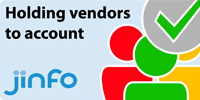 Community dates
---
[New] The Jinfo Subscription is back by popular demand!
13th October 2022
---
"Are you in a "proactive state of resilience"?"
15th November 2022
With the year end looming, our clients are closing out their 2022 deliverables and turning their attention to 2023 and the challenge of a more uncertain operating environment.
Read on the Blog