How to set the right norms for your team
Jinfo Event
16th April 2020

[Research Focus: Remote Teams]
Description
The most important part of remote work is not the tools, but rather the people using those tools. Managing at a distance requires setting the correct expectations for everybody on the team and maintaining project visibility, without trying to micro-manage each individual activity.
In this community session we will address the key challenges in managing remote team, discussing:
How to set good norms for everyone on your team
Balancing work practices with individual preferences
Tips for managing at a distance.
This Jinfo Community session is open to any organisation with a Jinfo subscription. When your registration is approved, you will receive details to join the teleconference.
Date:
Thursday, 16th April 2020 at 08:00 Pacific / 10:00 Central / 11:00 Eastern / 16:00 (BST) / 17:00 Europe, 60 minutes.
Slide presentation and notes
This event has passed, and a recording and/or slide deck is available for Jinfo clients.
If you are a client, please sign in here so that we can check your account:
About this Event
Community event title: How to set the right norms for your team

Related reports:
What's new at Jinfo?
Holding vendors to account
Thursday, 15th December 2022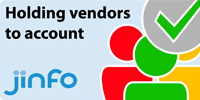 Community dates
---
[New] The Jinfo Subscription is back by popular demand!
13th October 2022
---
"Are you in a "proactive state of resilience"?"
15th November 2022
With the year end looming, our clients are closing out their 2022 deliverables and turning their attention to 2023 and the challenge of a more uncertain operating environment.
Read on the Blog