Risk assessment for information licensing - more important than ever
Jinfo Community
7th July 2020

[Focus: Risk Assessment]
Description
Most of us have seen recent changes to how we access and manage information, and probably expect some new conversations around licensing of content, especially at renewal time. It is the perfect time to reassess your risk profile with regards to information security, access, and use.
During this Community session, information licensing professionals from several organisations shared frank discussion and problem-solving on assessing and addressing the risks in their portfolios.
To get the value of this confidential session:
Read Jinfo's article, Risk assessment on information licensing
Use the activity in it to think about use cases, interdependencies and stability
Download the (anonymised) notes to get the insight and questions of your peers.
Community sessions are open to any organisation with a Jinfo Subscription. Register for future Community sessions so that you can take part in the discussion first hand.
Slide presentation and notes
This event has passed, and a recording and/or slide deck is available through a Jinfo Subscription.
If your organisation has a Jinfo Subscription, please sign in here so that we can check your account:
About this Event
Community event title: Risk assessment for information licensing - more important than ever

Related reports:
What's new at Jinfo?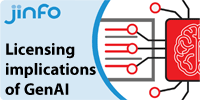 Community session: Legal implications of licensing third party content for GenAI
24th October 2023
Community dates
---
"Talent management, legal news cut, generative AI developments and new products"
5th September 2023
Learn about the vital role of nurturing the talent pipeline and succession. There's now a legal cut of our news and current awareness survey. And a real need for information managers to assert themselves to maximise the value of generative AI and mitigate the risks.
Read on the Blog