Product review of Aurora's FirstLight
Jinfo Report
11th January 2021
Abstract
Aurora's FirstLight is an intelligence SaaS (Software as a Service) platform, and a powerful competitive intelligence product. It uses machine learning algorithms to mine public and private data sources and can help organisations make more informed business decisions.
Jinfo last looked at the product at the beginning of 2018 and we now take another look to find out what's changed.
This review:
Introduces the company and product as well as outlining some of its key advantages

Looks at the product's users, particularly library and information professionals, and those working in the competitive intelligence field as well as sales and marketing staff

Examines how the product has evolved since we last reviewed it in 2018

Covers the help and training available within the product

Delves into the technology behind the product, with a specific focus on its automation capabilities, and its use of big data and natural language processing

Explores how a user would interact with the system and the process involved in a typical implementation of the Enterprise Edition

Focuses on the competitor landscape which includes big names such as LexisNexis, Thomson Reuters and Dow Jones as well as Meltwater, Manzama, and Northern Light, amongst others

Highlights the range of external and internal sources that can be included in this highly customised application, including paid subscriptions, social media, blogs, scientific journals and news databases, to name a few

Finds out about its range of pricing options

Concludes with a look at what product enhancements are in the pipeline over the next few years, including continued enhancements to the user interface, user experience and to the data visualisations.
By Andrew Lucas
Content Access
Access to Jinfo Content and Community is available through a Jinfo Subscription.
Does your organisation have a Jinfo Subscription?
"Not yet"
Access to this report is available through a Jinfo Subscription, which will help your organisation:
Save time and money
Re-invent information services
Define, measure and communicate information value.
---
"Don't know"
Contact us to find out if your organisation already has a Jinfo Subscription.

Or use the 'Text Chat' button at the bottom-right of this page for immediate assistance.
About this report
Report title: Product review of Aurora's FirstLight
Pages: 22

Related articles:

Related Blog items:
What's new at Jinfo?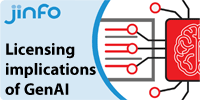 Community session: Legal implications of licensing third party content for GenAI
24th October 2023
Community dates
---
"Talent management, legal news cut, generative AI developments and new products"
5th September 2023
Learn about the vital role of nurturing the talent pipeline and succession. There's now a legal cut of our news and current awareness survey. And a real need for information managers to assert themselves to maximise the value of generative AI and mitigate the risks.
Read on the Blog