Managing your talent pipeline: Knowledge and succession
Jinfo Webinar
19th October 2023
Description
Join Hélène Russell as she shares insights on staff retention, succession planning, and strategies for mitigating the risk and cost of knowledge loss through attrition.
View the report, "
Managing your talent pipeline: Knowledge and Succession
", to review notes from our discussion and catch up on what you missed or reflect on what you heard.
Did you find this useful? Let us know how we can improve, or share your ideas for future topics by using the
contact form
.
[Runtime: 18 mins]
Webinar Recording
A recording and/or slide deck of this webinar is available through a Jinfo Subscription.
Does your organisation have a Jinfo Subscription? Please sign in here so that we can check your account:
"Not yet"
Access to this recorded webinar is available through a Jinfo Subscription, which will help your organisation:
Save time and money
Re-invent information services
Define, measure and communicate information value.
---
"Don't know"
Contact us to find out if your organisation already has a Jinfo Subscription.

Or use the 'Text Chat' button at the bottom-right of this page for immediate assistance.
About this Webinar

Related reports:
What's new at Jinfo?
Pivoting to meet the GenAI challenge
Community session
13th December 2023
---
Empower your stakeholders
Blog posting
5th December 2023
---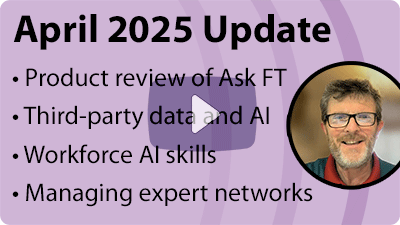 Jinfo December 2023 Update
YouTube video
7th December 2023