Value Chain analysis connects the dots to impact
Jinfo Blog
Thursday, 19th August 2021
Abstract
Shift the conversation from service provision to business outcomes and find out how information strategy can support your goals.
Item
It happened again today:
During a client workshop delivered as part of our Consulting on Value Chain, I shifted the conversation away from what services the department provides. Instead, we were talking about business outcomes:
Shortening the R&D cycle
Improving the success of mergers and acquisitions
Expanding the number and diversity of active projects in development.
For every one of these outcomes, the team was able to quickly list two or three or ten ways information strategy could support that goal.
I know from Jinfo's experience that if they implement even a small number of those ideas, they will have a measurable impact in the business. They will demonstrate and enhance their value as essential contributors to efficient and innovative R&D. And they'll be able to do so pretty quickly.
It's an exciting moment when the team connects the dots of Value Chain analysis. Suddenly, they have a whole new way of communicating – and actually enhancing – their value. The impact of information products, services and expertise becomes tangible.
Jinfo's Focus on Value Chain can transform how you think, plan, operate and communicate. Contact us to enquire about getting started with your own future transformation.
This item was featured in the most recent Jinfo Newsletter. The Jinfo Newsletter brings you updates on Jinfo's research, latest resources and tips. If you're not yet receiving it, register here (free).
About this article
Blog post title: Value Chain analysis connects the dots to impact
What's new at Jinfo?
Jinfo Overview - August 2021
View on YouTube
---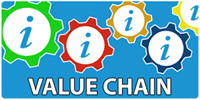 Five newly recorded webinars on how to complete the activities in our Focus on Value Chain now available.
---
Express value the way stakeholders do with Value Chain analysis
"I can now sit in a meeting with my stakeholders and articulate the role information plays in their workflows. They understand our contribution to their success." Information Senior Scientist, heavy manufacturing industry
---
With Jinfo Consulting, you get accountability, fine-tuned guidance and industry-wide perspective.
Benefit from our research
Our proven processes, resources and guidance will help your team make the shift from transaction centre to strategic asset.
---
Designed around the most common challenges and pain points for time- and resource-strapped information teams
Optimise your operations
Holistic content portfolio management
Future-proof your information service
Executive-ready communications
---
A tailored overview of our research and active discussion with your Jinfo analyst.
---
Measure your starting point to articulate your strengths and set priorities for future improvements. Assessments gauge risk, capacity, value and more.
---
Read case studies, and start the conversation:
Connect your team with the practical tools, original research and expertise to build and support information strategy in your organisation.
Jinfo Content and Community gives access to all Content (articles, reports, webinars) and Community.