The view from 30,000 feet, with a foundation of feet on the ground
Jinfo Blog
Thursday, 28th October 2021
Abstract
What challenges do information professionals face? Managing capacity, communicating with stakeholders and keeping up with user needs are usually on the list. In Jinfo's latest blog, Susan Gleckner explains how the Focus on Centre of Excellence methodology combines an all-seeing "30,000 feet" perspective with boots-on-the-ground knowhow rooted in.
Item
I've been with Jinfo for a while now, but I'm learning every day. I'm surprised at how quickly my view of the information services world has changed as a result.
It's enjoyable to be able to look at issues more strategically, from a 30,000-foot view, instead of always being pulled back to earth by practical realities.
Still, I can (and do) put myself in the clients' shoes. After all, over my 30 years of experience, I have lived the same challenges they have – managing capacity, communicating with stakeholders, keeping up with user needs, etc. It seems they're universal.
But that's also what demonstrates the benefit of Jinfo's Focus on Centre of Excellence. Our methodology:
Draws on our research and learnings from clients – in your industry and in others

–

to give you perspective on your challenges
Has successfully helped our clients make a significant positive change in how their service and expertise are perceived
Provides a new perspective on the influence you have on how information works in your organisation.
You can tap into these benefits by starting on the activities outlined in the five steps in our Focus on Centre of Excellence. Or, you can accelerate your learning – and the realisation of your goals – through Consulting on Centre of Excellence.
Whether you're a current client interested in the Focus on Centre of Excellence or you just know you want to operate more strategically, I invite you to reach out to me to swap stories... and also get a peek at the view from 30,000 feet. Email me at susan.gleckner@jinfo.com, and we'll set a time to talk.
About this article
Blog post title: The view from 30,000 feet, with a foundation of feet on the ground
What's new at Jinfo?
Holding vendors to account
Thursday, 15th December 2022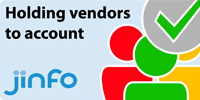 Community dates
---
[New] The Jinfo Subscription is back by popular demand!
13th October 2022
---
"Are you in a "proactive state of resilience"?"
15th November 2022
With the year end looming, our clients are closing out their 2022 deliverables and turning their attention to 2023 and the challenge of a more uncertain operating environment.
Read on the Blog