Stakeholder engagement is not what you think it is
Jinfo Blog
23rd February 2022
Abstract
If you are focused on raising stakeholder awareness, you are probably focusing on the wrong problem. Flip your perspective on how to strengthen those key relationships – someone's awareness is raised, but it's not stakeholders'. Jinfo explains how this shift is part of the journey to making your department the internal go-to resource for information strategy.
Item
We're currently helping a Jinfo Client with their stakeholder engagement plan.
The client's first draft originally started with:
"The goal is to raise stakeholder awareness about our services and value."
But, believe it or not, the goal is actually the reverse:
"To raise OUR awareness of business objectives and how stakeholders measure success."
Effective stakeholder engagement means partnership and mutual trust – it's about the stakeholders' needs, rather than your capabilities.
That's why our resources on stakeholder engagement focus on thinking about and managing those relationships strategically, before you do any outreach or communication.
Start with "Map your stakeholders", a multi-purpose approach to planning your engagement.
From those results, you can start to dig deeply into stakeholders' objectives, initiatives and key metrics. Then, because you are engaging around what matters to them – and what they understand – you can put your expertise to work, advising them on how information products and services fit into their vision of success.
Best of all, this approach can be measured through:
Number of strategic consultations
Number of referrals and "repeat business"
Frequency with which your team is cited as a partner on key projects
Number of invitations to engage with new audiences.
Imagine your department as the internal "go to" resource for consultation and advice to drive business results with information strategy.
If this piques your interest, talk to us about becoming a client.
About this article
Blog post title: Stakeholder engagement is not what you think it is
What's new at Jinfo?
Pivoting to meet the GenAI challenge
Community session
13th December 2023
---
Empower your stakeholders
Blog posting
5th December 2023
---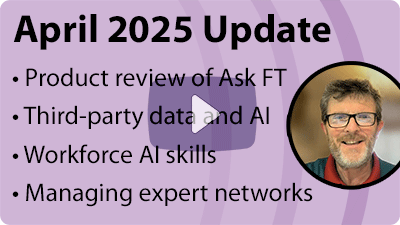 Jinfo December 2023 Update
YouTube video
7th December 2023