Are you in a proactive state of resilience? Preparing for contract negotiations
Jinfo Blog
Wednesday, 13th July 2022
Abstract
The final quarter can feel daunting; a busy operating period often combined with a large number of contract renewals. Negotiations are increasingly difficult; a value based approach can provide useful levers. Learn about the practical strategies you can employ to drive the negotiating process.
Item
The fourth quarter has more than its fair share of contract renewals; burdening information teams with incremental workload.
During this busy time, Jinfo client's focus is on successfully completing these renewals, within budget and without disruption.
Unsurprisingly, clients report increasingly difficult renewal negotiations trying to offset significant price hikes requested by suppliers.
Our September Jinfo Community session, "The Inside Circle – let's talk suppliers", provides a timely opportunity to get insights into tricky challenges relating to pricing, content markets, licensing options and more from your peers.
Jinfo advocates an emphasis on value, driving these conversations and changing mindsets to focus on how these products contribute to corporate goals.
It's not too late to start developing your long term strategy to manage your portfolio. Contact us to discuss becoming a Jinfo Client before the remainder of our 2022 capacity is filled.
About this article
Blog post title: Are you in a proactive state of resilience? Preparing for contract negotiations
What's new at Jinfo?
Holding vendors to account
Thursday, 15th December 2022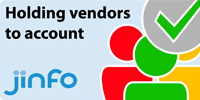 Community dates
---
[New] The Jinfo Subscription is back by popular demand!
13th October 2022
---
"Are you in a "proactive state of resilience"?"
15th November 2022
With the year end looming, our clients are closing out their 2022 deliverables and turning their attention to 2023 and the challenge of a more uncertain operating environment.
Read on the Blog