Strategies for succeeding in the final quarter
Jinfo Blog
26th October 2022
Abstract
In a challenging final quarter of the year, focussing on content portfolio cost reduction and doing "OK" are two valid strategies for information leaders.
Item
What is very clear is the challenge of getting through the final quarter of the calendar year.
Many of you are fulfilling a host of corporate deliverables, including budgets, evaluations, 2022 deliverables, 2023 strategy and closing the 2022 financial year end. All whilst doing the day job and trying to close out your renewals to ensure your content portfolio is ready for 2023.
Here are some ways Jinfo can support you:
Our November Community discussion will focus on "Cost reduction strategies for content portfolios". This is a great opportunity to share your best practices and learn how others are mitigating anticipated cost increases. Register now and share your strategies.


There's still time to use your remaining 2022 budget on a Jinfo Subscription. We can immediately support your work on budgeting, evaluations, 2023 planning and contract renewals. Learn more.


A number of clients are expressing an interest in Competitor Intelligence (CI) – either in the context of providing these services, or supporting the sourcing of appropriate content for CI colleagues. Denise Carter has joined Jinfo, as a Master CI practitioner with extensive experience in the pharmaceutical sector, although CI principles and practice of CI apply across all sectors. Contact us to discuss.
One of the observations from our October Community session on benchmarking is that knowing that you are doing "OK" (compared to the market) helps determine your priorities and where to spend your time. A full report of the session will shortly be posted into the Subscription.
We hope you are doing "OK" and able to work strategically during this busy quarter.
About this article
Blog post title: Strategies for succeeding in the final quarter
What's new at Jinfo?
Let's talk about managing up
20th April 2023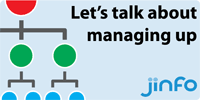 Community dates
---
[New] The Jinfo Subscription is back by popular demand!
---
"The goalposts keep moving..."
1st March 2023
Corporate belt-tightening continues and we are all being asked to do "more with less". But how practical is it to maintain service levels with diminishing resources? Before the straw breaks the proverbial camel's back, how do information leaders proactively manage stakeholders' expectations and resist the urge to "make do and mend" when budgets are tight?
Read on the Blog