News and current awareness survey last call, and insights on AI in the information industry
Jinfo Blog
6th June 2023
Abstract
Our "News and current awareness" survey closes soon so be quick to participate, and then register for the highlights in our next Community session. If you're monitoring the impact of generative AI on the information industry, don't miss the insights in our latest article ... and the response from vendors next month.


Item
News and current awareness survey
This is your last chance to contribute to the News and current awareness survey, and receive a free summary of the results. Participate now.
This is the most extensive survey of its kind which has been running since 2007. We have already had a fantastic response, with some interesting pointers to compare and contrast with our last survey in 2020.
Early indications are that, whilst the large aggregators continue to dominate the market, there has been a move to licence specific third-party sources. This targeted approach helps reduce duplications and false positives, and prevents information overload; making for a more intelligent news and current awareness service.
In this month's Community session "Initial findings from the News and current awareness survey" (20th June 2023) we will discuss some of the insights and practical outcomes. Register now.
Make sure you don't miss out on this important topic:
Artificial Intelligence (AI) impact on the information industry
Judging by the registration for our May Community session (our biggest ever), the impact of generative AI is a hot topic for Jinfo clients.
Despite all the hype, big business appears to be adopting a very cautious approach, with fewer than 20% of the attendees actually being allowed to use the technology.
AI tools are clearly having a big impact on user behaviour (because of their accessibility and ease of use), so organisations are developing counter strategies.
Information roles are being displaced, and traditional content licensing models are being upended.
We have summarised the discussion and the key learnings in our latest article "The impact of (generative) artificial intelligence".
Next month's Community session will be "Artificial Intelligence - the view from the content providers" (18th July 2023) – yes, we're getting the big aggregators involved to hear about their plans.
We always encourage and welcome feedback, and we are really proud to have received this:
"I really enjoyed this Community session and the follow up article. It's fascinating to learn what others are doing with this technology".
As always, please contact me if you'd like to discuss the benefits of a Jinfo Subscription or how Jinfo Consulting can support your own challenges with news and current awareness, or AI.
About this article
Blog post title: News and current awareness survey last call, and insights on AI in the information industry
What's new at Jinfo?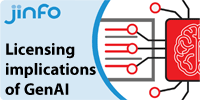 Community session: Legal implications of licensing third party content for GenAI
24th October 2023
Community dates
---
"Talent management, legal news cut, generative AI developments and new products"
5th September 2023
Learn about the vital role of nurturing the talent pipeline and succession. There's now a legal cut of our news and current awareness survey. And a real need for information managers to assert themselves to maximise the value of generative AI and mitigate the risks.
Read on the Blog