Concluding the FreePint Topic Series - What You Need to Know Your Customer (KYC)
Jinfo Blog
Wednesday, 1st October 2014
By Andrew Lucas
Abstract
Andrew Lucas wraps up the FreePint Topic Series: What You Need to Know Your Customer (KYC) by looking back at some the topics and themes in risk and compliance that have emerged from the series that he and Chris Porter have co-produced over the last three months.
Item

Since the FreePint Topic Series: What You Need to Know Your Customer (KYC) kicked off in July of this year we have looked at a wide range of topics that information professionals are thinking about in this space.
Impact of Regulatory Change
At the start of the series Sophie Alexander's article KYC Survey Findings from Dow Jones, KPMG and Thomson Reuters highlighted the findings of recent research carried out by the companies and gave an overview of how regulatory change has impacted on business decisions and some of the key trends in this area.
The series concluded with a handy guide to the main players in the KYC space: Vendor Market Overview - Know Your Customer.
Minimising Risk
Another useful market overview was provided by Mark Dunn, the due diligence segment leader for Risk & Compliance at LexisNexis, on the law relating to Anti-Money Laundering and Anti-Bribery & Corruption. The article, Due Diligence - from Business Burden to Business Benefit, also looked at how organisations can mitigate the risk of becoming involved in corruption through third parties (e.g. agents, suppliers) by implementing either Simplified or Enhanced Due Diligence process.
One of the themes touched upon in almost all the articles in the series is the increased exposure to criminal sanctions not only of companies, but also management for breach of the law relating to Anti-Money Laundering and Anti-Bribery and Corruption and therefore the increasing importance of KYC.
Analysing How Regulators Are Upping the Ante
This was very much the theme of the Tenth Annual Thomson Reuters Compliance & Risk Summit which looked at the increasing focus by regulators on conduct risk and corporate culture. Our coverage of the conference, Changing Compliance Culture in the Financial Sector, considered whether the shift from rules-based regulation to the harder to measure compliance culture will require information managers to review the compliance information within their organisation and who receives it.
How information professionals can help management avoid some of the pitfalls that can result in a jail sentence was explored by Tim Buckley Owen in his article Why Compliant Bosses Need Info Pros - Some Cautionary Compliance Tales.
Quizzing Industry Luminaries
The Topic Series also included question and answer sessions with two industry leaders: Tom Obermaier, CEO of Regulatory Data Corp (RDC) and Joel Lange, managing director of the Dow Jones Risk & Compliance business.
In the Q&A, Making the Impossible Possible, Tom Obermaier talked about the possible emergence of a compliance data utility serving all the financial institutions and public companies.
In a wide-ranging conversation with Chris Porter, Weathering the Perfect Storm of Compliance Legislation, Joel Lange talked about issues which included areas of activity and change in risk and compliance data; regional variations; do-it-yourself versus subcontracting approaches; key current buying centres and emerging needs; and differing delivery options.
Considering Outsourcing
A focus for the Topic Series has been when to carry out due diligence in-house and when to outsource it. In The KYC Conundrum - Should You Outsource? industry expert Darren Hickman, managing director of ComplianceAssist, considered the issues of do-it-yourself versus outsourcing and explained the options, the pitfalls and where to start.
Penny Crossland looked at some of the free online resources that can be used for undertaking KYC due diligence in her article Risk & Compliance - Free Online Resources.
Putting Products to the Test
Product reviews included Chris Porter's analysis of the enhancements to Bureau van Dijk's Compliance Catalyst and a full review of Reg-Track, a regulatory tracking service aimed at compliance professionals focused on the financial services industry in the largest financial markets, including North America, the European Union and Asia-Pacific.
This year's compliance Topic Series has endeavoured to provide information professionals with both a broad picture of what is happening in the KYC space as well as focusing on some of the key issues that are of concern to practitioners. If you have missed any of the articles or product reviews over the summer, it is not too late to catch up.
Don't Miss the Webinar
Join us for the FreePint Webinar "Can You Outsource KYC?" where ComplianceAssist's managing director Darren Hickman will identify:
Key factors in deciding whether to outsource
Tips on what to look for when choosing an outsourcing provider
How to ensure your compliance processes will withstand the regulator's scrutiny.
The sessions will run on 28th October at 12:30 GMT and 30th October at 17:00 GMT, find out more and book here.
Editor's Note

This article is part of the FreePint Topic Series: What You Need to Know Your Customer (KYC) which ran from July-September 2014 and included articles, reviews and expert tips. You can still register your interest until end December 2014 and receive an end-of-series free PDF report with selected premium articles.
About this article
Blog post title: Concluding the FreePint Topic Series - What You Need to Know Your Customer (KYC)

Related articles:

Related reports:
What's new at Jinfo?
Jinfo Overview - August 2021
View on YouTube
---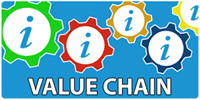 Five newly recorded webinars on how to complete the activities in our Focus on Value Chain now available.
---
Express value the way stakeholders do with Value Chain analysis
"I can now sit in a meeting with my stakeholders and articulate the role information plays in their workflows. They understand our contribution to their success." Information Senior Scientist, heavy manufacturing industry
---
With Jinfo Consulting, you get accountability, fine-tuned guidance and industry-wide perspective.
Benefit from our research
Our proven processes, resources and guidance will help your team make the shift from transaction centre to strategic asset.
---
Designed around the most common challenges and pain points for time- and resource-strapped information teams
Optimise your operations
Holistic content portfolio management
Future-proof your information service
Executive-ready communications
---
A tailored overview of our research and active discussion with your Jinfo analyst.
---
Measure your starting point to articulate your strengths and set priorities for future improvements. Assessments gauge risk, capacity, value and more.
---
Read case studies, and start the conversation:
Connect your team with the practical tools, original research and expertise to build and support information strategy in your organisation.
Jinfo Content and Community gives access to all Content (articles, reports, webinars) and Community.